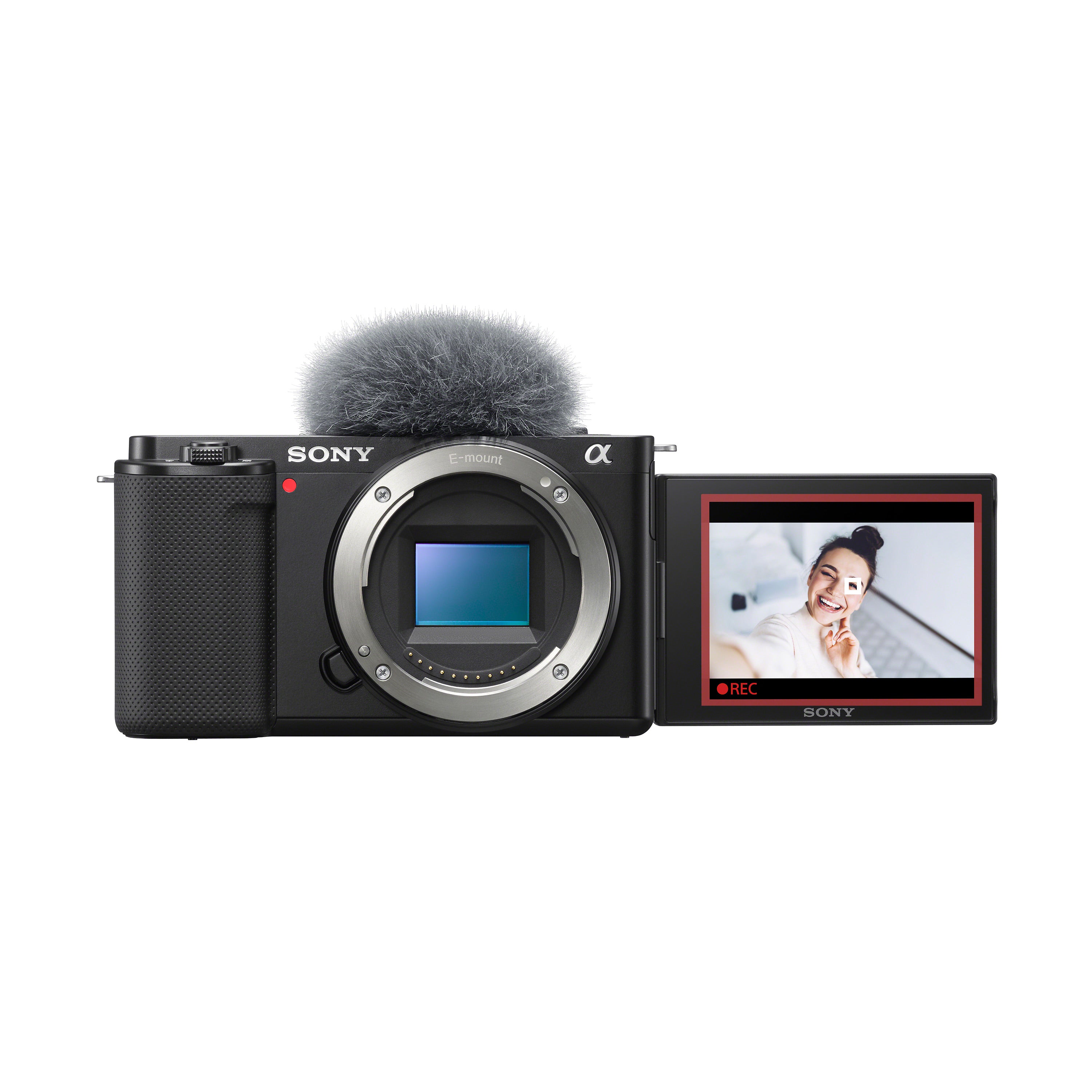 ZV-E10 Interchangeable-lens Vlog Camera
Add this item to your cart to see additional savings
 

available.

Made for video creators and vloggers
At its core, the ZV-E10 features a 24.2-megapixel* (approx. effective) APS-C Exmor CMOS sensor and BIONZ X image processing engine to produce high-quality imagery with high-sensitivity, detailed texture depiction and beautiful natural bokeh. The ZV-E10 also includes the acclaimed vlogging-specific features favored in the popular ZV-1 digital camera, including; "Background Defocus", "Product Showcase Setting" and "Face Priority AE" along with Sony's highly acclaimed autofocus. Take your vlogging to the next level with the ZV-E10.

Find a lens to match your style
Professional-looking vlogs are easy with the interchangeable lens ZV-EIO camera. Thanks to Sony's extensive range of E-mount lenses, you have a wide variety to capture the world however you choose to see it. Incorporate background scenery into your script with a wide-angle lens, or make the subject grab the viewer's attention by using a wide aperture lens with an artfully blurred background. Move in closer with a macro lens or pull in distant scenes with a telephoto lens. Choose how you see the world and pick the lens that matches your style.


A large-format image sensor for professional-quality images
The ZV-E10's impressive images are the result of the camera's large 24.2 MP* APS-C Exmor image sensor. Compared to other cameras, the image sensor of the ZV-E10 is more than ten times* bigger than a smartphone sensor and three times bigger than a premium 1" sensor found in compact cameras, allowing for beautiful, professional-looking images with high resolution and intricate detail.


High-quality images with minimal noise
The ZV-E10's large-format image sensor is designed to maximize light collection, producing 4K movies with high-quality images and less noise, even when you're shooting in a dimly lit setting.


Instant easy access to controls
When you're shooting a vlog session, the last thing you want to do is fumble for buttons. With the ZV-E10 you'll find the MOVIE button right on top, for quick access. There's also a handy zoom lever10, and a mode button that lets you easily switch between Still/Movie/S&Q to access still images, normal videos and Slow & Quick Motion modes.


Designed for simple selfie and vlog shoots
Weighing in at just 12.8 ounces (364 grams), the ZV-E10 is ready to hit the road with you whenever you're ready to vlog. The side-opening vari-angle LCD screen makes it easy to take selfies and check your framing, even when you're shooting from high or low positions. Even the ergonomic grip is designed for a safe and stable hold.

4K video with oversampling for greater detail
The ZV-E10 delivers extremely detailed and crisp 4k from direct pixel readout and no pixel binning. Using the full width of the 24.2MP sensor, means it oversamples roughly the equivalent of 6k, approximately 2.4 times the actual resolution needed to produce its highly detailed 4 video.