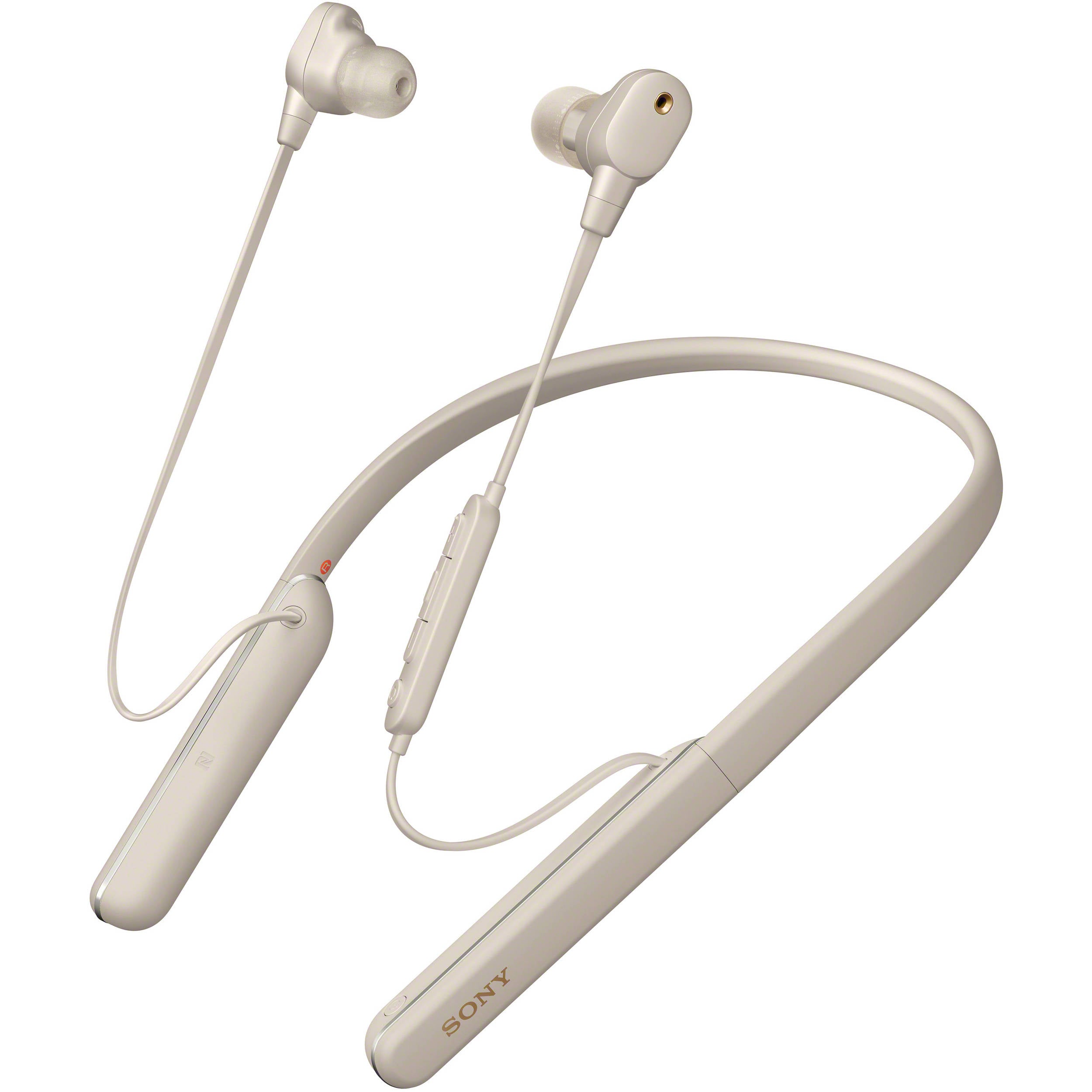 WI-1000XM2 Wireless Noise cancelling In-ear Headphones
Industry-leading noise cancellation
The noise cancelling technology in the WI-1000XM2 is the most advanced ever in wireless neckband headphones thanks to the power of our HD Noise Cancelling Processor QN1. So you can lose yourself completely in your music.

More noise captured with Dual Noise Sensor Technology
Dual microphones—one feed-forward and one feed-back—on the surface of the headphones catch more of the ambient sounds of your surroundings whether it's in-flight noise city traffic or office chatter.

More noise cancelled with HD Noise Cancelling Processor QN1
Having caught the ambient sound the dedicated HD Noise Cancelling Processor QN1 gets to work. It not only cancels significantly more noise across almost all frequencies but it also uses less power.

Atmospheric Pressure Optimizing
Our noise cancelling is made to fly with Atmospheric Pressure Optimizing. Enjoy in-flight entertainment with noise cancelling optimized for high altitude.

HD Hybrid Driver System
Sound is optimized across the frequencies with the HD Hybrid Driver System. The 9-mm dynamic driver custom-designed for the WI-1000XM2 provides deep bass and clear mids while the matched Balanced Armature driver reproduces delicate natural high tones.

The power your music deserves
The multi-talented HD Noise Cancelling Processor QN1 combines Digital Noise Cancelling 32-bit Audio Signal Processing and a Digital-to-Analog converter with headphone amplifier. The result? Stunningly clear sound.

Truly authentic sound with High-Resolution Audio
Hear music that stays true to the original recording with High-Resolution Audio. For everyday listening the Digital Sound Enhancement Engine HX (DSEE HX™) upscales compressed digital music files bringing them closer to the quality of High-Resolution Audio.

A snug stable fit with angled earphone design
With an angled shape the earphones sit deeper and more securely in the ear for a stable comfortable fit. Even when walking around they won't slip out unexpectedly.

Light and comfortable silicone neckband
Keep listening in comfort with a lightweight neckband design made from flexible silicone that's easy to store in a bag or case.

Up to 10 hours of listening
No need to worry about battery life on the go. With up to 10 hours of battery life the music just keeps on playing.

Up to 80 minutes on quick charge
If your headphones are running low on power a 10-minute quick charge gives you up to 80 minutes of play time.

Adaptive Sound Control automatically adjusts to whatever you do
The Sony | Headphones Connect app offers Adaptive Sound Control a smart function that automatically detects what you're up to—such as travelling walking or waiting—then adjusts ambient sound settings to suit the situation. You can also customize the settings to your preferences.

Be in control of your listening
With the Sony | Headphones Connect app Ambient Sound Control lets you adjust the volume of background sound and gives you the option to allow voices alone to be heard. Meanwhile the Equalizer lets you customize sound levels to suit your music.

Go smarter with your favourite voice assistant
Manage your day just by asking your favourite voice assistant. Enjoy entertainment connect with friends get information listen to music and notifications set reminders and more.

Clearer hands-free calling with microphone built in
Conversation flows freely with clearer calling. These hands-free headphones include a microphone built into the in-line controls for taking calls or talking to your voice assistant.

Everything at your fingertips with intuitive controls
Operate essential functions at a touch using the handy in-line controls including volume up/down play/call for music and phone conversations and a custom button for your favourite function.

Stay tangle-free with magnetic earbuds
When you're finished with your headphones snap the magnetic earbuds together to stow them away neatly without getting wires tangled.

Be travel-ready with handy carry case
These headphones are designed to pack and go with a foldable design that fits neatly in a premium fabric carry case alongside cables and an airplane plug adapter.