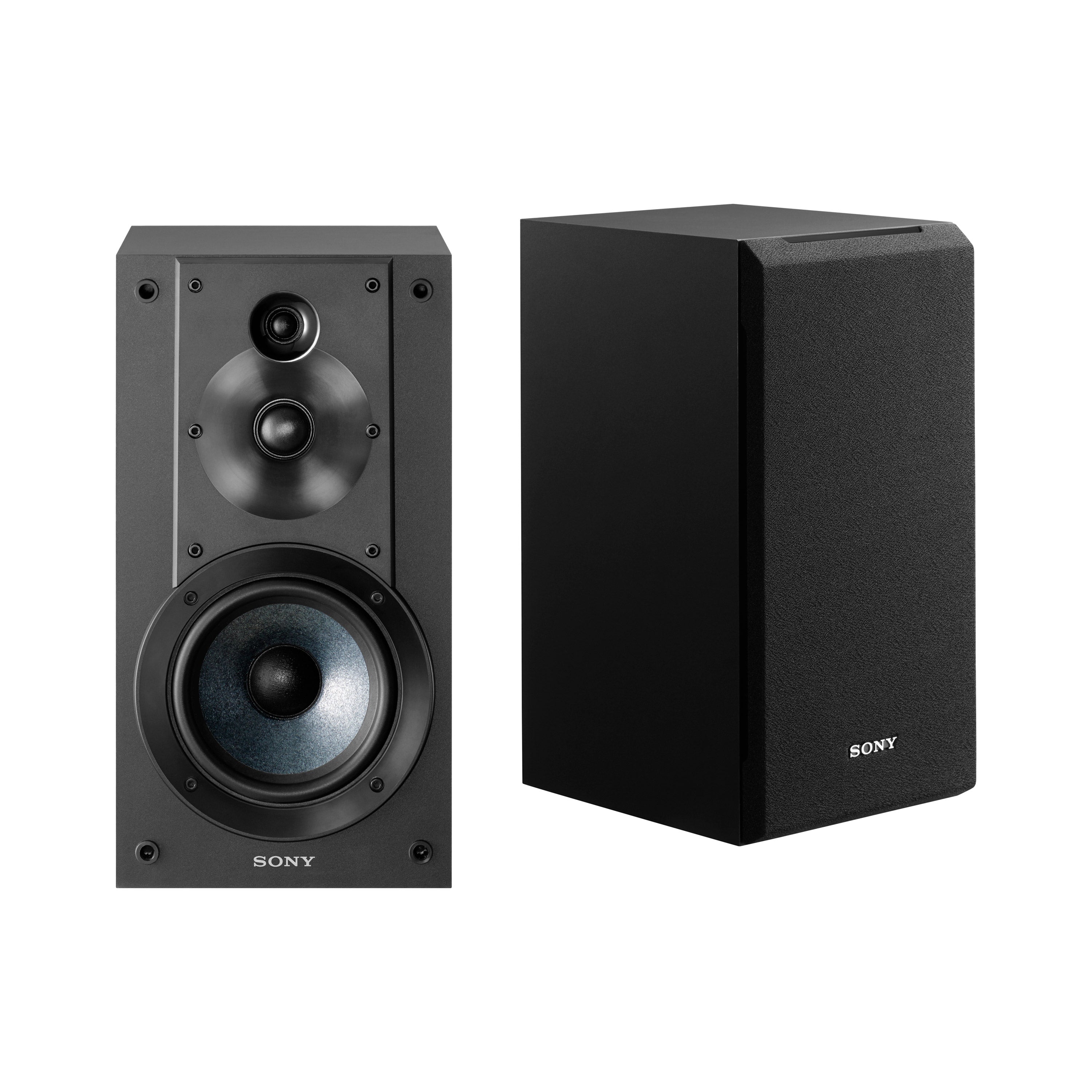 Stereo Bookshelf Speakers (Pair)
High-Resolution Audio for uncompromised sound
Take your digital music collection to another level with High-Resolution Audio. By capturing music at a higher rate than CD, increasing both audio samples per second and the bitrate accuracy of each sample, High-Resolution Audio offers a near-perfect capture of an artist's music. Savour every breath and subtle movement for a truly emotional experience.

3-way, 3-driver speakers for enhanced clarity
Hear natural depth and total clarity in all your audio. The 3-driver bookshelf speakers include a rigid 130mm MRC woofer for dynamic bass, along with a 25mm tweeter and 19mm super-tweeter designed to reproduce High-Resolution Audio tracks. Supported by a compact footprint and up to 100W input power handling, these speakers truly are the perfect match for any room.

Super tweeters expand your soundstage
Feel your favourite music unfold throughout the room with precision and balance. These speakers include new super tweeters with wide directionality. High-frequency notes are reproduced precisely across an expansive soundstage – you can even sense the positioning of instruments – for an experience that's close to being there.

Enhanced sound pressure with reduced weight
Low sound pressure is a common weakness of small-sized tweeters and can result in unbalanced sound. These speakers include tweeters with high sound pressure, achieved through a variety of weight reduction techniques, including the integration of a more powerful magnetic circuit and a lighter CCAW (copper-clad aluminium wire) in the voice coil.

High precision tweeter for faithful sound
Hear vocals that perfectly reproduce the energy and passion of the singer. The 25mm soft dome main tweeter features polyester fibre for a more faithful, authentic sound. Precise acoustic tuning, using advanced sound-absorbing felt, eliminates rear sound pressure from the tweeters to ensure natural-sounding vocals.

130mm Woofer boosts low end frequencies
This speaker system incorporates a newly developed 130mm woofer for deep, stable bass. Utilising a foamed mica-cellular diaphragm, it produces both powerful bass and the finer detail required for clear vocals and dialogue in the mid-range.

Mica Reinforced Cellular cone for undistorted audio
The perfect partner for today's bass-driven music. Many speakers use paper cones that flex and deteriorate over time, leading to a more distorted sound. Mica Reinforced Cellular (MRC) fibre woofers are rigid, holding their shape even when moving at high pressure and speed, so you can drive the bass harder without compromising your audio quality.

Rich acoustics with strong cabinet design
The ported, all-wood enclosures are built for resonant acoustics. Unwanted vibrations are dampened and absorbed, thanks to a rigid construction which includes interior joints strengthened with a solid wooden structure. Our designers also optimised the type and layout of interior sound absorbing material to control, and precisely tune, cabinet resonant vibration.

Tapered faceplate edges keep sound clear
Eliminating unnecessary noise from the baffle board and cabinet is essential for a high quality performance. With slightly tapered faceplate edges, edge diffraction is suppressed for a clear and natural soundstage.

Premium components, premium sound
Poor connections can have a significant impact on overall sound quality. That's why these speakers use only premium components: air-core inductors in the tweeters, a silicon steel plate in the woofer, the thickest possible winding materials, and high quality film condensers. Hear and enjoy every nuance of High-Resolution Audio in the detail it deserves.

Wooden finish for style and substance
This speaker has a smart black finish that blends with most contemporary interiors. The wood veneer also retains its shape well, ensuring that the sound won't be influenced by changes in temperature and humidity.

High quality structure for clear music playback
These speakers are built on sound foundations. A strong, ported enclosure allows for rich, resonant acoustics. The bass reflex duct, positioned at the rear of the speaker, suppresses unwanted noise and improves low-frequency sound reproduction.

Compact bookshelf design for small spaces
These small, bookshelf speakers are very compact and space-efficient for easy installation in tight spots. Despite their compact size, they offer a wide frequency response, right down to 53Hz, making them an ideal choice when you don't want to sacrifice sound quality for space.