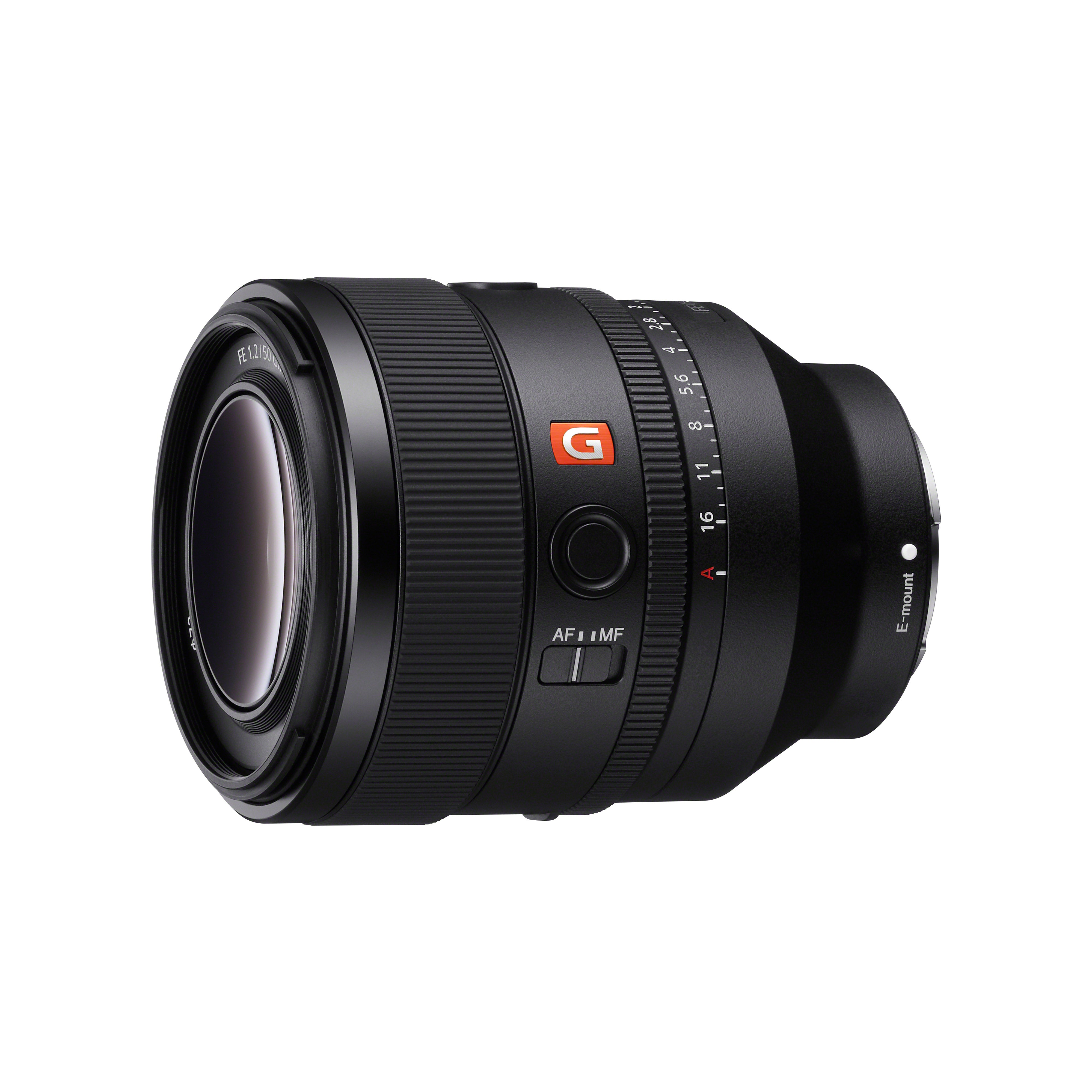 FE 50mm F1.2 GM
Compact F1.2 prime lens w/ awe-inspiring G Master resolution and bokeh
The FE 50mm F1.2 GM uses Sony's latest techniques including advanced optical simulation and manufacturing technology to deliver awe-inspiring G Master resolution and bokeh with a wide F1.2 aperture in a surprisingly compact and lightweight design. Three XA (extreme aspherical) elements and Nano AR coating II contribute to high-contrast, high-resolution results with corner-to-corner sharpness and dramatically reduced chromatic and spherical aberration, flare and ghosting. A floating focus mechanism ensures that full resolution is maintained throughout the image area from infinity to close focus. Despite its compact size and light weight, the FE 50mm F1.2 GM delivers incredible resolution and contrast from the image center right out to the corners.
F1.2 max aperture for extraordinary brightness and depth of field
The F1.2 max aperture provides extraordinary brightness and shallow depth of field, allowing you to isolate your subject from the foreground and background with amazing light gathering capabilities when shooting wide open. The unique combination of wide F1.2 aperture with 11 circular aperture blades and three XA (extreme aspherical) lens elements deliver on the G Master promise of ultra-sharp in-focus areas of your image with beautifully soft defocused bokeh. The fast F1.2 aperture is  not only good for shallow depth of field, but ideal for situations that require more light gathering capabilities like indoor, night and astral photography, making this lens perfect for any occasion.
Three (XA) Extreme Aspheric elements for stunning resolution
The FE 50mm F1.2 GM incorporates three extremely precise XA (extreme aspherical) elements - manufactured to 0.01-micron surface precision - in an innovative optical design that achieves awe-inspiring G Master resolution throughout the image area, while delivering smooth, creamy bokeh in out-of-focus areas. Three XA elements compensate for coma, field curvature, and astigmatism, that can be problems with large-aperture optics. These elements also enable closer focusing distance and contribute to the compact and lightweight design.
Beautiful, natural-looking bokeh
While three XA elements effectively suppress onion ring bokeh, the 11-blade circular aperture maximizes the beauty of this large-aperture prime-lens, contributing to impressive images in which the subject stands out against a smoothly defocused foreground and background, as well as perfectly round points of defocused light. Conventional aperture blades have flat sides that create unappealing, polygonal-shaped defocused points of light. This lens overcome this problem through a unique design that keeps the aperture almost perfectly circular from its wide-open setting to when it is closed by 2 stops. Smoother, more natural defocusing can be obtained as a result.
Nano AR coating II enhances clarity
Sony's advanced Nano AR (anti-reflective) Coating II has been developed for large and highly curved lens element surfaces to suppress internal reflections and minimize flare and ghosting for clear, well-defined images. This advanced coating is evenly applied to entire element surfaces; despite the lens's wide aperture, the Nano AR Coating II maintains high clarity and contrast throughout the entire image, even in difficult backlit situations.
Four XD Extreme Dynamic Linear motors for fast, precise autofocus
The FE 50mm F1.2 G Master lens incorporates a precision internal focus mechanism consisting of two focus groups and four XD (extreme dynamic) Linear Motors that easily keep up with the high-speed capabilities of today's most demanding continuous shooting and high frame rate video. They take advantage of their full autofocus speed, precision, and tracking potential to capture the most dynamic subjects. A state-of-the-art control algorithm make it possible to drive the lens's focus group smoothly and without delays for responsive, silent, precise and continuous autofocus in both still and video modes. XD Linear motors not only contribute to AF precision and performance, close-focusing distance, but also help reduce the overall size and weight of the lens and, due to their efficiency, reduce power consumption for longer battery life.