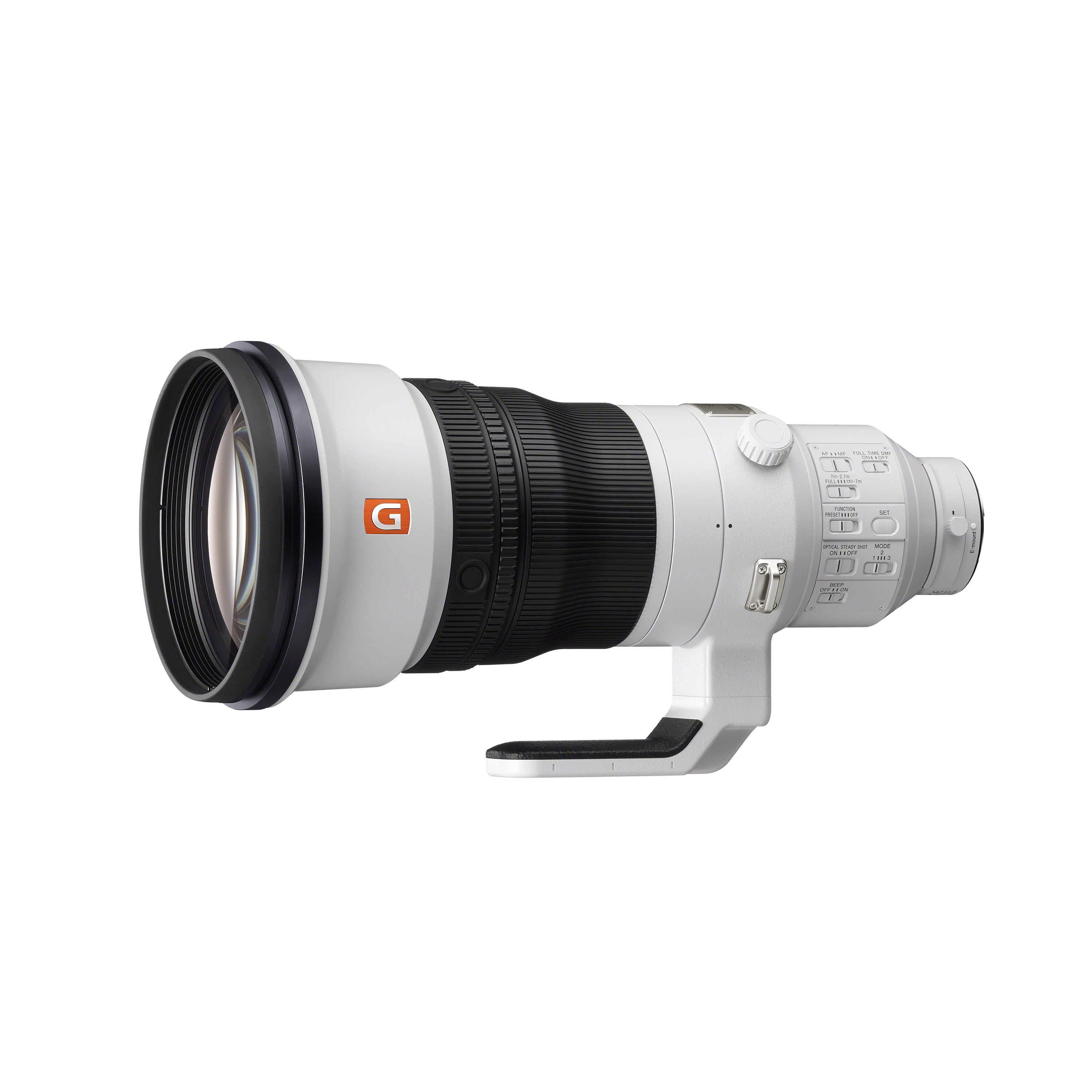 FE 400mm F2.8 GM OSS
Innovative G Master F2.8 super telephoto
Sony's most advanced lens technologies have been unsparingly applied in this large-aperture super telephoto lens, achieving extraordinary speed, outstanding G Master resolution and bokeh, plus professional control and reliability. Moreover, the SEL400F28GM is a remarkably lightweight super telephoto lens, providing unparalleled handheld shooting freedom.
Newly developed XD (extreme dynamic) Linear Motor achieves extremely fast, precise, quiet AF
The XD Linear Motors used in the SEL400F28GM have been newly developed to deliver higher thrust and efficiency than conventional types in order to make the most of the rapidly evolving speed performance of current and future camera bodies. The linear motor design and component layout have been thoroughly revised to achieve significantly higher thrust. Two of these new motors are used in the SEL400F28GM, achieving up to a 5x improvement in moving-subject tracking performance. This means that the full speed performance of advanced camera bodies can be applied to capturing perfect images of the most dynamic sports or wildlife subjects. The XD motors are further supported by new algorithms developed specifically for them, notably improving the motors' response to control signals and minimizing lag and instability that can occur when driving a large aperture focus lens group for quiet, low-vibration operation. 
Extraordinary G Master resolution
All lenses bearing the G Master brand are designed to extremely high standards, ensuring that outstanding contrast at high spatial frequencies is maintained right out to the image edges. The optical design includes three fluorite elements that help to minimize axial chromatic aberration that can be a problem in large-aperture lenses, as well as lateral chromatic aberration that can reduce resolution towards the image periphery. Color bleeding is effectively suppressed, allowing clear reproduction of the finest subject details.
Natural, beautiful G Master bokeh
In addition to careful control of spherical aberration at the design stage, each lens is individually tested and adjusted during manufacture to achieve the highest possible bokeh quality. An 11-blade circular aperture mechanism further contributes to smooth circular bokeh. The SEL400F28GM allows the narrow depth of field achievable with a 400 mm F2.8 lens to be utilized to create images with deep, lush, defocused backgrounds.
1.4x and 2.0x tele-converter support, with high imaging and AF performance
Optional high-performance 1.4x and 2.0x tele-converters are supported, providing up to 800 mm focal length (1200 mm equivalent on APS-C bodies) with an F5.6 maximum aperture. Outstanding imaging performance and fast, precise AF operation are maintained when either of these excellent tele-converters are used, ensuring that the lens's superior G Master image quality is not compromised.
Excellent flare resistance for high clarity and contrast
Sony's original Nano AR Coating is applied to interior lens surfaces to effectively suppress reflections that can lead to flare and ghosting, significantly enhancing image clarity and contrast. (1. Nano AR coating / 2. Glass / 3. Transmitted light)
Remarkably lightweight at just 102.2 oz (2.90 g)
An innovative optical design that includes three fluorite elements and reduces the number of elements deployed at the front of the lens barrel is behind the remarkably light weight of this fine lens. Another weight-reducing factor is the use of durable magnesium alloy components in the barrel. The SEL400F28GM weighs just 102.2 oz (2,895 g), providing portability and handheld maneuverability that active photographers will appreciate. Repeated field tests and evaluation by professional photographers has led to a design that is not front-heavy, reducing moment of inertia that resists rotation by up to approx. 50% compared to the SAL500F40G. Quicker, more precise panning is assured whether shooting handheld or on a monopod. 
Dust and moisture resistance maintains reliability in harsh environments
The dust- and moisture-resistant design provides the reliability needed for outdoor use in harsh conditions.
Liberal use of magnesium alloy
A durable magnesium alloy is used not only for the lens barrel exterior and tripod mount, but also for interior barrel components as well. This provides the tough durability that demanding professional applications require, while minimizing overall weight.