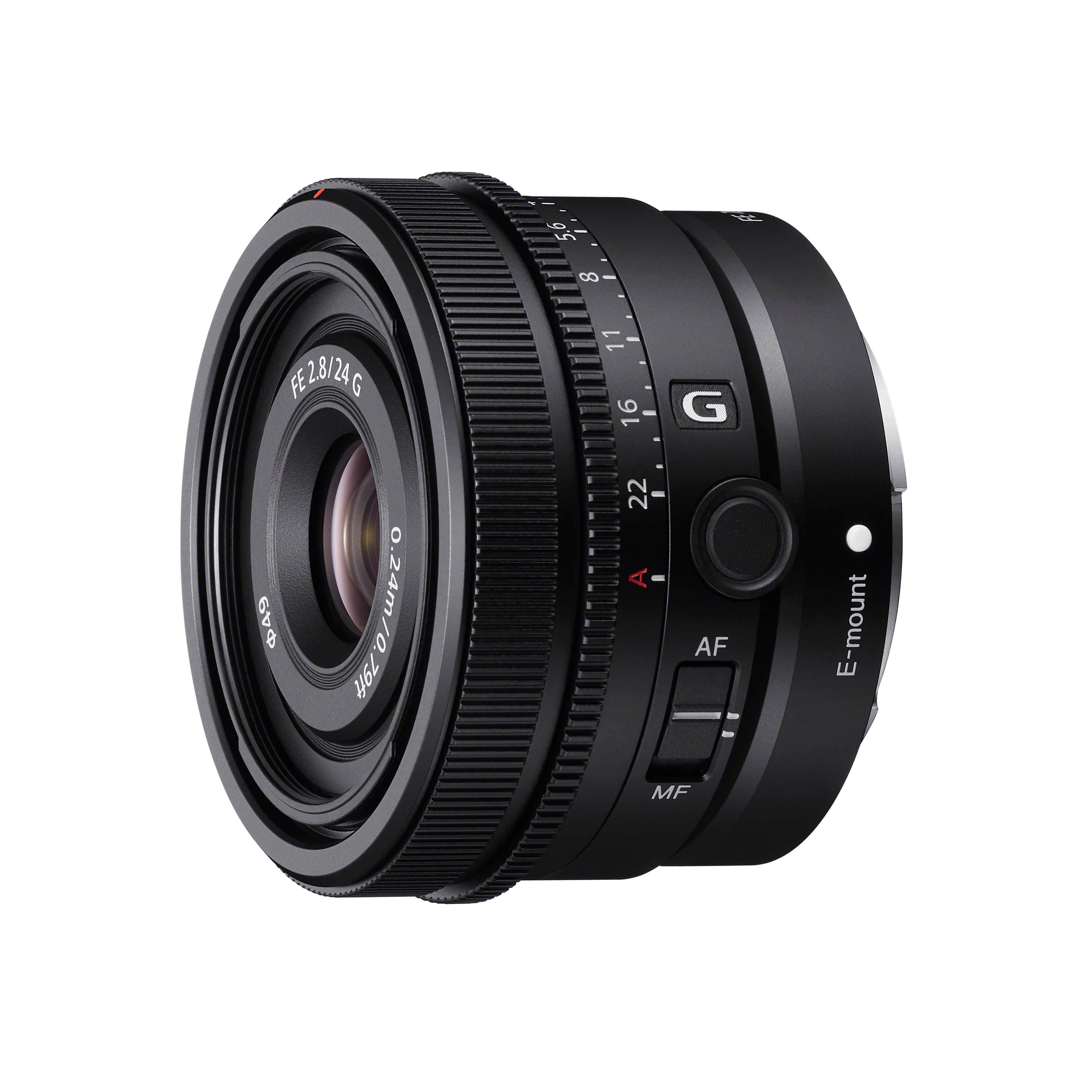 FE 24mm F2.8 G
Ultra-compact fast prime w/ G series lens quality and performance
The high-quality G Lens optical design incorporates three aspherical lens elements for sharp detail and one ED (Extra-low Dispersion) glass element that reduces chromatic aberration for outstanding corner-to-corner resolution. In addition, the state-of-the-art optical design takes maximum advantage of the short flange back, unique to mirrorless cameras, to realize stunning compactness at 68mm diameter x 45mm and a weight of only 162g. Mobility is a key feature, preserving the compactness of the overall E-mount system whether shooting with a full-frame or APS-C body or shooting either still images or movie.
Beautiful natural bokeh
The F2.8 max aperture is ideal for low-light situations for maximum light gathering capability while also providing a shallow depth of field. Beautiful natural bokeh expected from a G Lens is delivered with minimal spherical aberration and provision of a 7-blade circular aperture for round defocused light sources.
Corner-to-corner sharpness
High image quality is realized by the inclusion of three aspherical lens elements compensate for various aberrations, delivering high resolution performance from corner to corner of the image, even from the widest aperture with shallow depth of field.
Reduced chromatic aberration
The FE 24mm F2.8 G incorporates an ED glass element to suppress chromatic aberration and effectively reduces color fringing that is more likely to occur in the image periphery, leaving precisely rendered edges with no fringing or unnatural coloration, while significantly reducing flare and ghosting.
7-blade circular aperture
While conventional aperture blades have flat sides that create unappealing, polygonal-shaped defocused points of light, the FE 24mm F2.8 G incorporates a 7-blade circular aperture mechanism to maximizes the beauty of this large-aperture prime-lens. The wide f2.8 aperture and circular aperture blades contribute to impressive images in which the subject stands out against a smoothly defocused foreground and background, as well as perfectly round points of defocused light.
Two Linear motors for fast, precise autofocus tracking
Taking full advantage of the continuing rapid advances in the speed and performance of newer camera bodies, two linear motors are used in the FE 24mm F2.8 G lens to deliver fast, precise AF (autofocus) with excellent tracking performance. Tracking is maintained despite instantaneous changes in subject motion, making the lens ideal for situations require tracking a moving subject.
Natural, linear manual focus response
Linear Response MF (manual focus) ensures that the focus ring responds directly and linearly to subtle control when focusing manually. Focus ring rotation translates directly to a corresponding change in focus, so control feels immediate and precise in both still and movie modes.
Wide-angle close-ups
Get a unique perspective through close-up, wide angle shooting. The wide 24mm angle of view is useful in applications where the background is to be included, such as gimbal shooting or selfie shooting with a grip. The FE 24mm F2.8 G features an impressive minimum focus distance of 9.45" (0.24m) (AF) / 7.08" (0.18m) (MF) and maximum magnification of 0.13x (AF) / 0.19x (MF). With the wide F2.8 max. aperture, you can also shoot close-ups with beautiful blurred background bokeh.