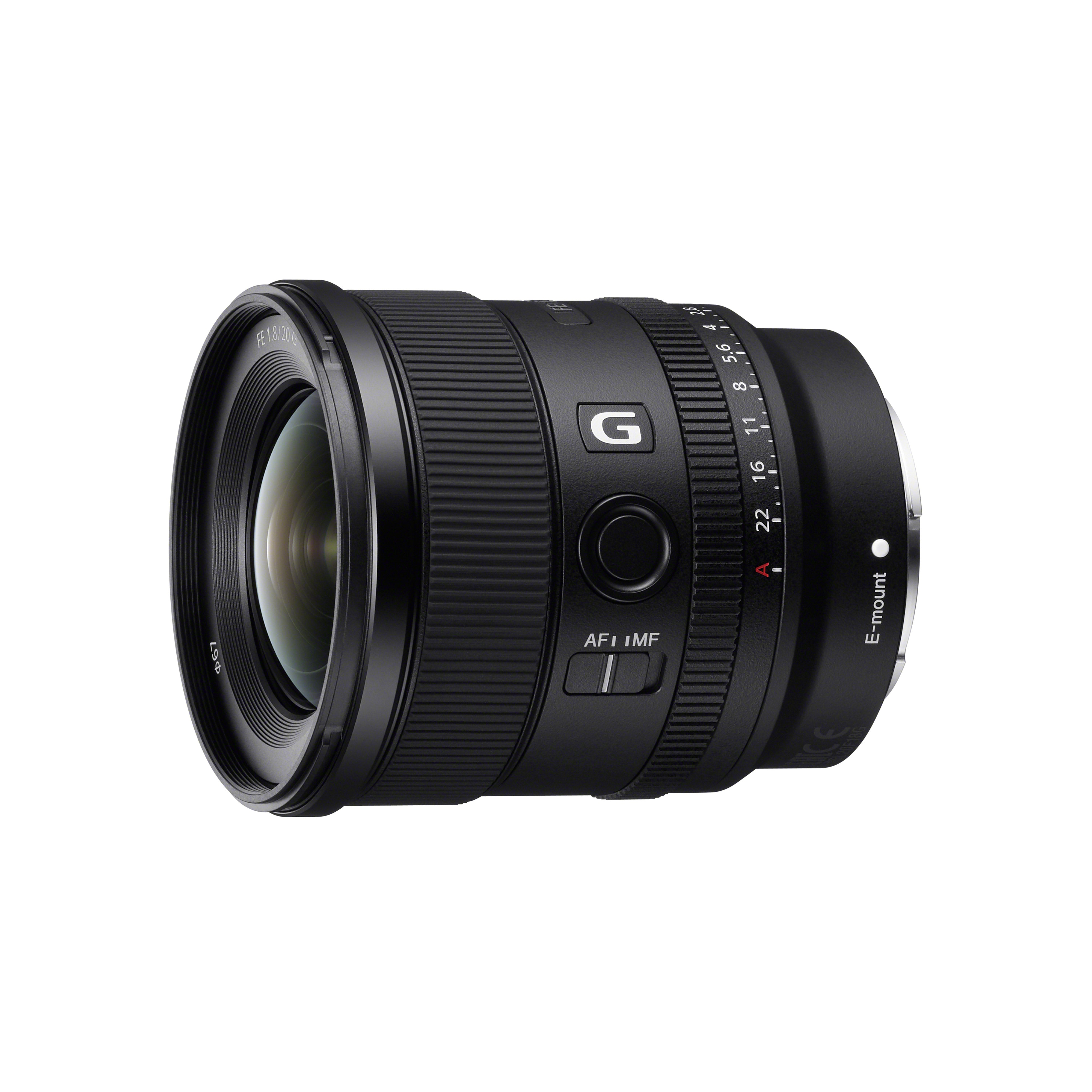 FE 20mm F1.8 G
A compact high-resolution 20 mm F1.8 prime
Sony's latest optical technology achieves impressive corner-to-corner resolution from maximum F1.8 aperture in a large-aperture wide-angle prime lens. It is also remarkably compact. Matched with an E-mount body this lens makes up a mobile system with outstanding AF performance control and reliability for a wide variety of shooting needs.

Superb corner-to-corner resolution from F1.8
Two AA (advanced aspherical) elements in an innovative optical design minimize aberration for outstanding corner-to-corner resolution right from the lens's widest F1.8 aperture.

Smooth natural-looking bokeh
In addition to precise control of spherical aberration—which has significant influence on bokeh quality—the FE 20 mm F1.8 G has a 9-blade circular aperture that contributes to smooth creamy bokeh and natural-looking highlights that are hallmarks of the G Lens series.

Realistically rendered point sources
Two AA (advanced aspherical) elements and three ED (Extra-low Dispersion) glass elements are employed to minimize sagittal flare so that point light sources are reproduced accurately without colour smearing.

Superb AF speed precision and tracking
Two XD (eXtreme Dynamic) Linear Motors easily keep up with Sony's high-speed camera bodies taking full advantage of their AF speed precision and tracking potential. New control algorithms make it possible to drive the lens's large focus group smoothly and without delays for responsive silent low-vibration auto focus.

Compact and lightweight for enhanced mobility and handling
An advanced optical design that includes two AA elements is supported by a refined mechanical system in a G Lens that weighs just 373 g (13.2 oz). Small size and light weight enhance mobility when used with compact E-mount bodies and make up a well-balanced system that is ideal for use on gimbals or accessory grips. The FE 20 mm F1.8 G is a versatile lens for a wide variety of still and movie shooting situations.

Excellent close-up performance even for selfies
In addition to the fact that 20 mm is a great focal length for selfies this lens has a minimum focusing distance of just 0.19 m (0.63 ft) when used in AF mode and an even closer 0.18 m (0.59 ft) minimum focusing distance when focused manually. It is an excellent choice for gimbal/grip mounting whether shooting selfies or other subjects.

Nano AR Coating for crisp contrast
Sony's original Nano AR Coating creates a precise regular nanostructure on lens surfaces that does not interfere with light transmission while suppressing reflections that can cause flare and ghosting. Internal reflections are reduced to an absolute minimum achieving outstanding clarity and contrast. (1. Nano AR Coating / 2. Glass / 3. Transmitted light)

Dust and moisture resistant
A dust- and moisture-resistant design provides the reliability needed for outdoor use in challenging conditions.

Natural linear manual focus response
Linear Response MF ensures that the focus ring responds directly and linearly to subtle control when focusing manually. Focus ring rotation translates directly to a corresponding change in focus so control feels immediate and precise.

Customizable focus hold button
A conveniently placed focus hold button not only offers easy focus hold control but can be assigned to a variety of other functions from a menu accessed via the camera body.

Fluorine front element coating
The front lens element features a fluorine coating that repels water oil and other contaminants while making it easier to wipe off any contaminants or fingerprints that do become attached to the lens surface.

Easy manual/auto focus switching
A focus mode switch that allows instant switching between auto and manual focus mode can be a great advantage when shooting subjects or situations that require fine manual focus adjustment.

Switchable aperture ring click stops
In addition to providing the fast response required for professional application the aperture ring includes a switch that turns its click stops on or off: ON for tactile feedback when shooting stills or OFF for seamless silent control when shooting movies.