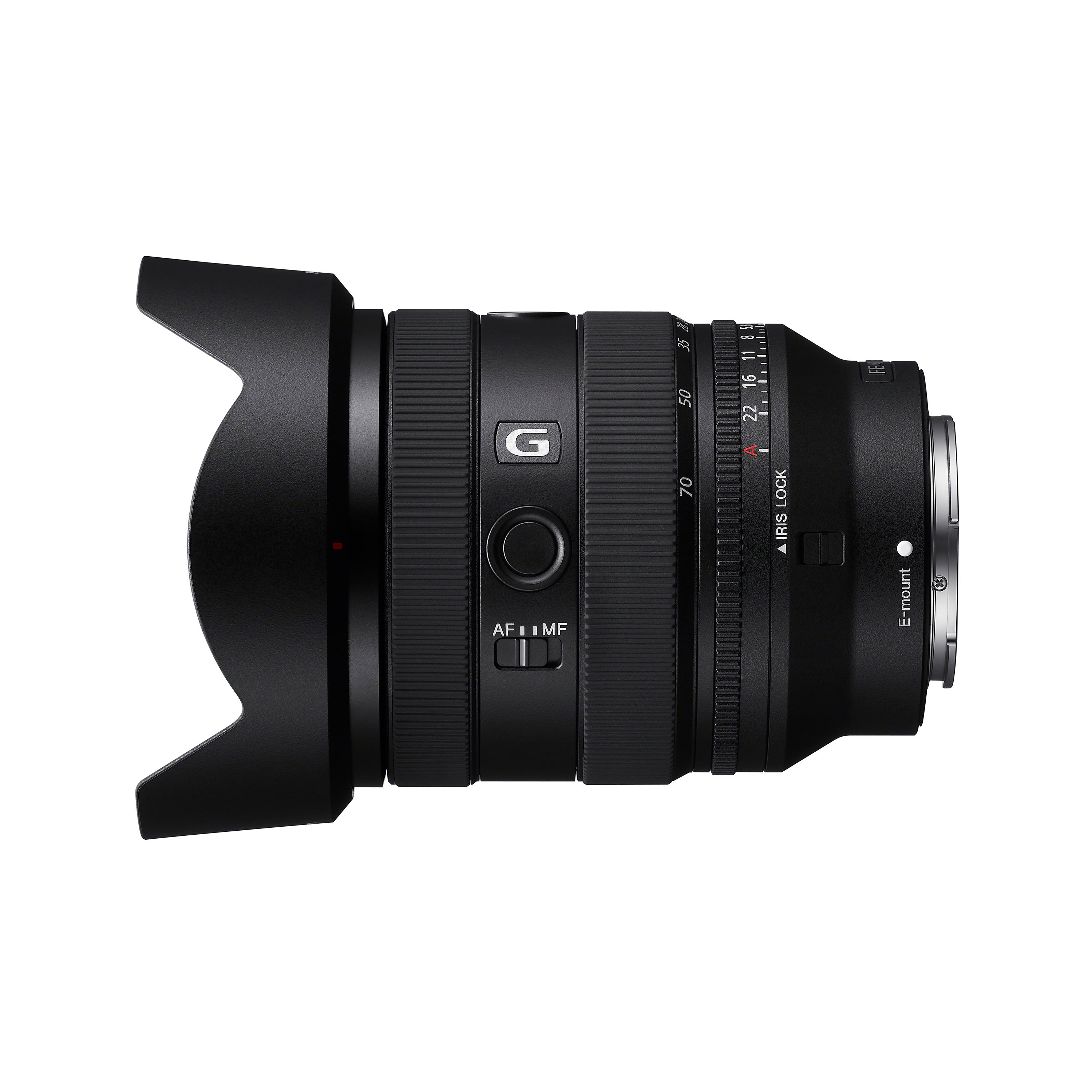 FE 20-70mm F4 G
Ultra-wide 20 mm to mid-tele 70 mm zoom range, for a wide range of movie and still subjects.
With an unprecedented ultra-wide 20 mm to mid-telephoto 70 mm zoom range, this versatile lens is an excellent choice for a wide range of movie and still subjects. The ultra-wide 20 mm end of the zoom range maintains a wide angle of view when shooting movies with a 16:9 or 2.35:1 aspect ratio that reduces field of view.
Outstanding G Lens image quality with corner-to corner high resolution at all focal lengths
With two AA (advanced aspherical) elements, one aspherical element, three ED (Extra-low Dispersion) glass elements, and one ED aspherical element, this state-of-the-art lens design corrects both chromatic and spherical aberration for high optical performance right out to the image edges, from ultra-wide 20 mm to 70 mm.
Peak AF performance with two XD Linear Motors for precise, fast, quiet focus drive
Two XD (extreme dynamic) Linear Motors achieve fast, quiet, smooth focus drive with up to 60% higher AF speed and up to two times better performance while tracking for reliable, precise tracking. Moving subjects are reliably tracked when shooting continuous stills at up to 30 fps, or up to 4K 120p with alpha compatible cameras.
Refined movie imagery with minimized focus breathing and focus/axial shift while zooming
Advanced technology reduces focus breathing as well as focus and axial shift when zooming so that distracting image shifts are minimized. XD Linear Motors and a newly developed aperture unit dramatically reduce noise and vibration when shooting movies. The breathing compensation function provided in compatible α series cameras is also supported.
Compact, lightweight design for superb image quality and versatility in any situation
This compact, lightweight lens combines state-of-the-art optical design with Sony's high-thrust XD (extreme dynamic) Linear Motor technology. Used with a compact mirrorless camera, it can deliver superb image quality in any situation at focal lengths from ultra-wide to short telephoto. A great choice for shooting with a highly mobile and lightweight setup.
Excellent close-up performance of 9.8" (25cm) throughout the zoom range (manual focus)
AA (advanced aspherical) elements help to achieve a minimum focus distance of 11.8" (30 cm - wide) to 9.8" (25 cm - telephoto) when using AF, and 9.8" (25 cm) throughout the zoom range when focusing manually. Maximum magnification is 0.39x for detailed close-ups. Close focus makes it easy to maneuver around small subjects to find the ideal angle.
Constant F4 maximum aperture throughout zoom range for greater flexibility
A constant F4 maximum aperture offers greater flexibility in choosing apertures at any focal length. The selected aperture remains constant throughout the zoom range. There is no need to use extreme ISO settings at the telephoto end of the range, and high shutter speeds can be used as needed to achieve the desired effect.