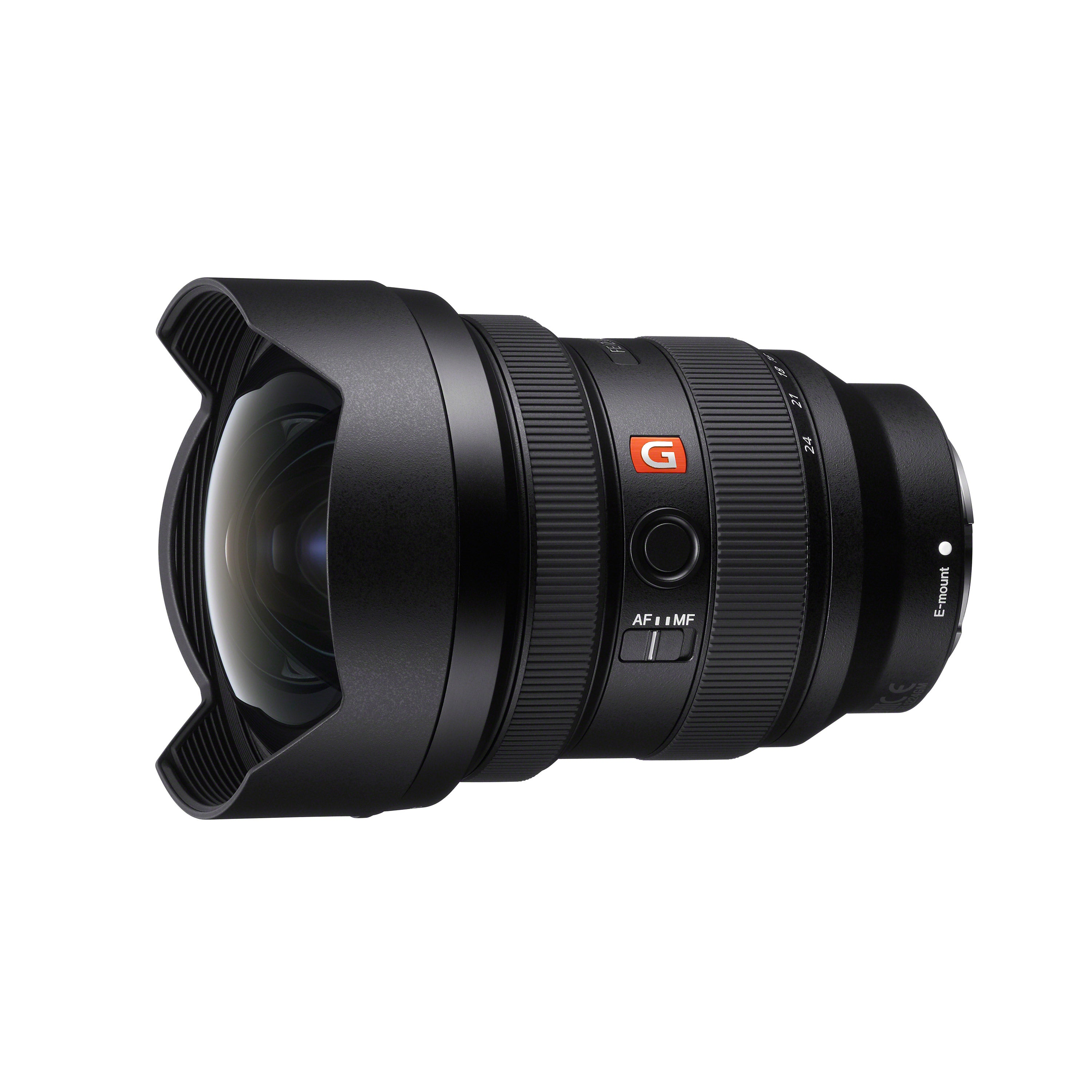 FE 12-24mm F2.8 GM
Ultra-wide F2.8 12–24-mm zoom
The ultra-wide 12-mm angle of view available with this versatile makes it possible to emphasize distance and create dynamic perspectives that are beyond the scope of the human eye. 12–24-mm zoom with a constant F2.8 maximum aperture is ideal for shooting night scenes starry skies and other low-light subjects at low sensitivities without having to use extremely slow shutter speeds.

New optics with the largest XA element
Three XA (extreme aspherical) elements including the largest ever made for any α lens combine with one aspherical element in an innovative optical design that achieves stunning G Master resolution throughout the image area.

Minimal aberration enhances sharpness
Two Super ED (Extra-low Dispersion) and three ED glass elements suppress chromatic aberration that can degrade resolution in this type of large-aperture lens ensuring that colour smearing does not occur anywhere in the image area so that maximum sharpness is maintained throughout.

Crisp images in difficult light
A new Nano AR Coating II that can be evenly applied to large lens elements or highly curved element surfaces has been developed to suppress internal reflections that can cause flare and ghosting for clear crisp imagery. Despite the lens's wide angle of view Nano AR Coating II maintains high clarity and contrast throughout the entire image even in difficult light. ( [A] Conventional coating [B] Nano AR Coating II [1] Conventional coating [2] Nano AR Coating II [3] Glass [4] Highly curved glass surface [5] Reflected light )

Surprisingly small and lightweight
An innovative optical design with four aspherical elements including three XA types plus a mechanical design that features high-performance XD Linear Motors in a compact 12–24-mm constant F2.8 zoom that weighs only 847 grams. This lens is ideal for landscapes night scenes and architecture while providing extra mobility for active sports shooters who want to use ultra-wide angles.

Gorgeous G Master bokeh
While the extremely high surface precision of the lens's XA elements effectively suppresses onion-ring bokeh fine tuning of its spherical aberration characteristics during both design and manufacture plus a nine-blade circular aperture contribute to exquisitely smooth creamy G Master bokeh.

Floating mechanism achieves excellent resolution from infinity to close focus
A floating focus mechanism that divides the lens's focus group into two independently controllable groups is extremely effective in minimizing aberration that varies with focusing distance. Top performance is maintained from infinity to close-up focus throughout the entire zoom range. The floating mechanism not only contributes to outstanding close-up performance but also outstanding sharpness with subjects at any distance.

Constant F2.8 maximum aperture for flexible moviemaking
With a constant F2.8 maximum aperture at all focal lengths aperture does not change while zooming so that exposure shutter speed and ISO sensitivity can remain consistent while shooting movies. When used on an APS-C body or with a Super 35 angle of view the wide end of the zoom range becomes equivalent to 18 mm on a full-frame body providing a very useful zoom range for moviemaking.

Dust and moisture resistant design
A dust- and moisture-resistant design provides the reliability needed for outdoor use in challenging conditions.

Fluorine front element coating
The front lens element features a fluorine coating that repels water oil and other contaminants while making it easier to wipe off any contaminants or fingerprints that do become attached to the lens surface.

Natural linear manual focus response
Linear Response MF ensures that the focus ring responds directly and linearly to subtle control when focusing manually. Focus ring rotation translates directly to a corresponding change in focus so control feels immediate and precise.

Fast precise autofocus and tracking
A total of four XD Linear Motors two for each of the lens's focus groups contribute to fast precise autofocus and tracking that augment the many advantages provided by Sony's native lenses. This advanced system makes full use of the speed potential provided by high-performance camera bodies making it easier to capture significant moments in the most dynamic sports or other types of action. AF operation is also quiet with minimal vibration.

Rear filter holder
Standard sheet-type ND colour correction and other filters can be inserted into the lens's rear filter holder for expanded expressive capability. A cutting template for sheet filters is supplied.