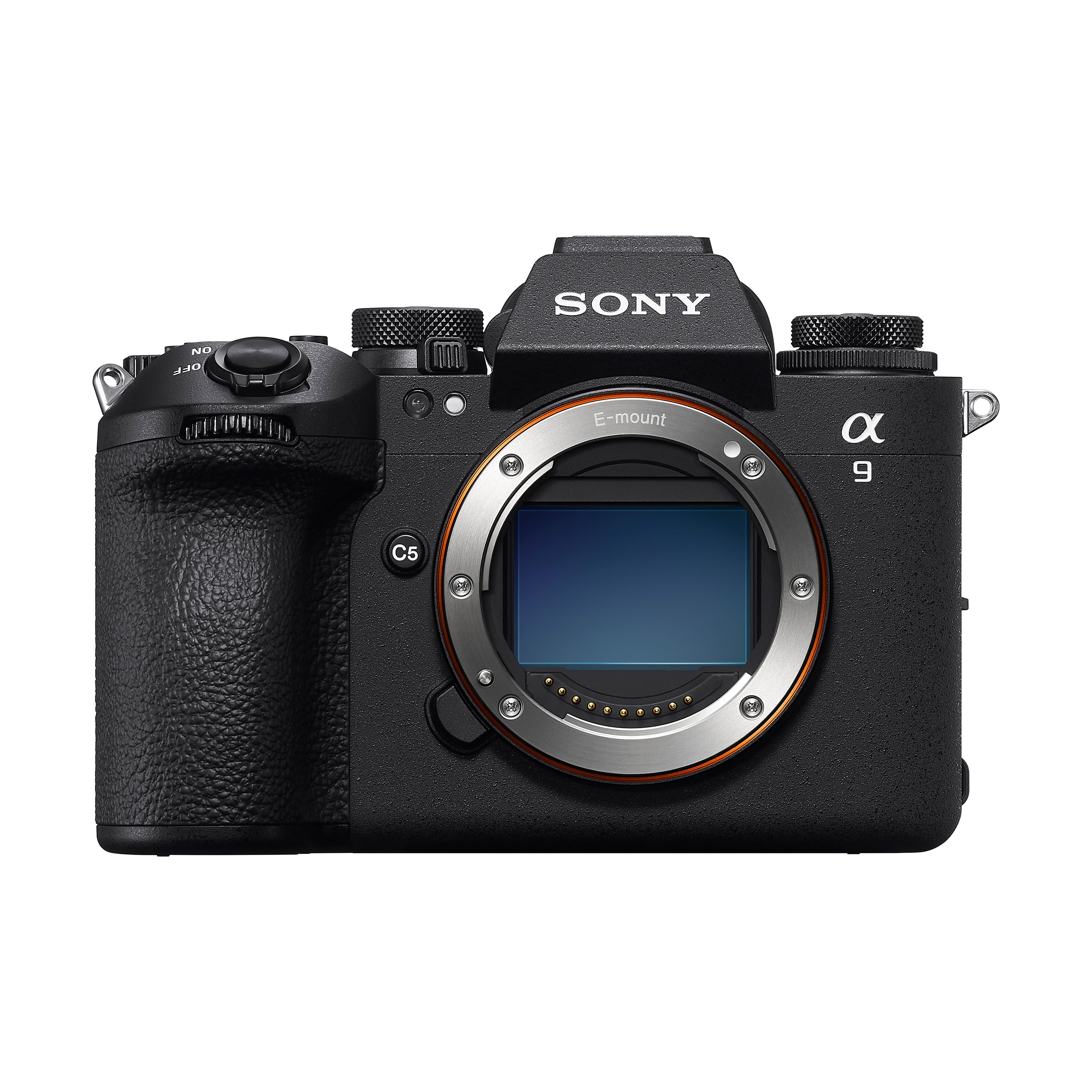 Alpha 9 III Full-frame Mirrorless Interchangeable Lens Camera
Estimated Shipping: Late February 2024
Unprecedented imagery from the world's first camera with global shutter full-frame image sensor
The α9 III features the world's first full-frame stacked 24.6 MP CMOS image sensor with a global shutter system. Unlike a rolling shutter sensor that records images sequentially from the top row of pixels to the bottom, the newly developed Exmor RS™ image sensor exposes and reads all pixels simultaneously so the camera can capture fast-moving subjects with absolutely no rolling shutter distortion. Combined with a maximum shutter speed of 1/80,000 second (1/16,000 second during continuous shooting), the α9 III is a game changer for professional photography.
Blackout-free, 120 fps continuous shooting with full AF/AE tracking
The α9 III is defined by speed and accuracy, enabling it to capture decisive moments with ease. It's capable of shooting continuous bursts at up to 120 fps with full AF/AE tracking, all without viewfinder blackout, and its highly advanced AI processing unit recognizes subjects with astonishingly high precision and reliability.
Preserve split-second moments with maximum shutter speed of 1/80,000 second
At 1/80,000 second, the maximum shutter speed of the α9 III makes it easy to capture fast-moving subjects in almost any situation. What's more, a compatible flash unit from Sony (such as the HVL-F60RM2 or HVL-F46RM) can synchronize at all shutter speeds, eliminating the steep, nonlinear drop-off in illumination that occurs with high-speed sync (HSS) and ensuring even illumination across the image.
Exmor RS image sensor with global shutter system
The new full-frame global shutter image sensor is equipped with 24.6 million effective pixels, a stacked CMOS architecture and integral memory. This offers high resolution, overwhelming speed, and simultaneous full-pixel readout, so even fast-moving subjects can be captured distortion-free. The sensor's stacked structure and advanced A/D conversion enable high-speed processing to proceed with minimal delay.
BIONZ XR™ image processing engine boosts overall processing speed by up to 8x
With up to eight times more processing power than previous versions, the BIONZ XR image processing engine minimizes processing latency while markedly boosting image processing power. The high volume of data generated by the newly developed Exmor RS™ image sensor can be processed in real time even while shooting continuous bursts at up to 120 fps to significantly improves image quality. The camera can also capture high-quality 14-bit RAW images in all still shooting modes.
Composite RAW Shooting reduces noise
Composite RAW Shooting captures multiple images (4, 8, 16, or 32, selectable) which can then be merged using Sony's Imaging Edge Desktop™ computer application software to create full-resolution images with very low noise. This makes it possible to shoot wildlife at high shutter speeds or portraits in low light, achieving exceptionally high image quality with low noise, even at higher ISO settings. When shooting at low sensitivity levels, the α9 III can use Composite RAW to create images with reduced false color and jaggies.
Advanced optical 5-axis image stabilization
Shoot handheld with confidence. The α9 III is packed with a high-precision image stabilization unit, advanced gyro sensors, and optimized image stabilization algorithms to effectively detect and correct camera shake, offering 8.0-step stabilization. This is further supported by compatible lenses with built-in image stabilization and improved communication between the camera and lenses, providing effective control for blur-free shooting even at telephoto focal lengths.