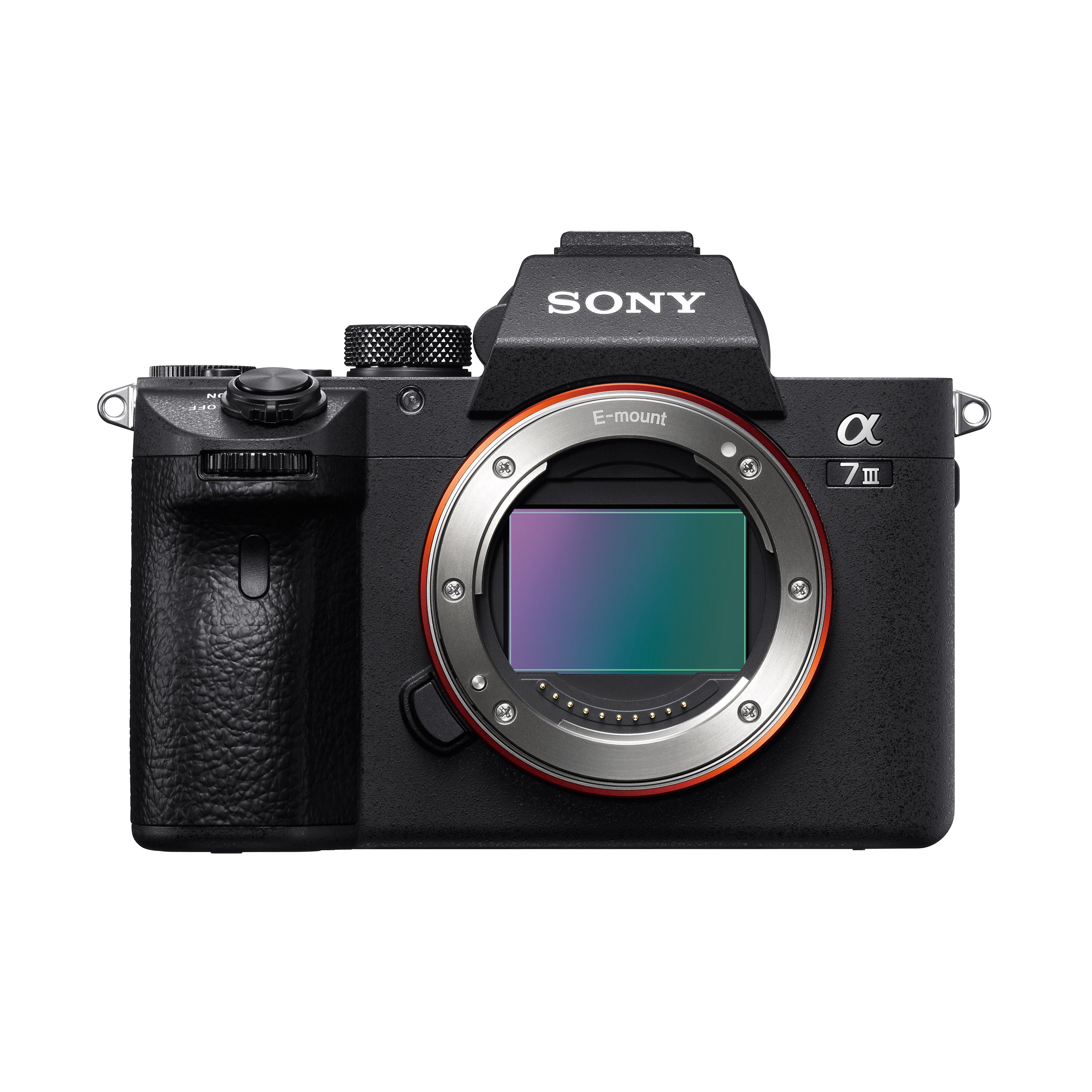 a7 III with 35 mm full-frame image sensor
Back-illuminated 24.2 MP full-frame sensor
The 35 mm full-frame Exmor R® CMOS image sensor features 24.2-megapixel resolution back illumination and gapless on-chip lens design for extraordinary sensitivity and dynamic range. Two times faster data readout speed is achieved through copper wires and front-end LSI.

Entirely enhanced image processing system
A combination of new-generation image processing system and a new sensor achieves an up to 1.5-stop improvement in image quality. A wide ISO sensitivity range of up to ISO 51200 is standard and approx. up to 15-stop dynamic range at low sensitivity settings is realized. Upgraded Detail Reproduction and Area-specific Noise Reduction join to suppress noise and maintain a sense of high overall resolution. Colour reproduction especially of skin and nature scenes has also been dramatically improved. The α7 III also supports 14-bit RAW output even during silent shooting/continuous shooting.

Wider faster more steadfast AF performance
An evolved image processing system and α9 camera AF algorithms optimized for the α7 III improve AF speed precision and tracking performance. 693 phase-detection AF points and 425 contrast-detection AF points provide high-density wide-area coverage. AF speed improved by up to twice and more precise AF tracking performance let you capture and maintain focus on a quickly moving subject in unpredictable motion. The α7 III also autofocuses reliably down to EV-3 brightness.

Focal-plane phase-detection AF supports A-mount lenses
Phase-detection AF can operate even when an A-mount lens is mounted to the α7 III via an LA-EA3 adaptor. The 693-point focal-plane phase-detection AF system provides wide-area coverage fast response and high-performance tracking.

Always keep the eye in focus
Eye AF newly supports AF-C mode with greater precision that dramatically enhances portrait shooting plus higher AF speed that makes it easier to shoot a portrait of a moving subject even if the subject looks down and away from the camera or is backlit with face in partial darkness. The α7 III supports Eye AF for A-mount lenses mounted via an adaptor.

AF-ON button and multi-selector
The new AF-ON button activates autofocus without any half-press-shutter-button focus sequence so you can concentrate better on exactly when to release the shutter and capture the moment instantly. A multi-selector lets you shift the point of focus quickly and efficiently. You can select and shift the point of focus intuitively so you won't miss great chances to shoot moving subjects.

Comprehensive AF convenience
AF tracking sensitivity when shooting stills is adjustable in five steps for subjects that move outside of the focus area. Autofocus areas and points remain the same or change when switching between horizontal and vertical orientations depending on the shooting situation. AF area registration allows frequently used focus point settings to be memorized and assigned to custom buttons for fast convenient recall at a touch whenever needed.

Up to 10fps with AF/AE tracking
With new shutter charge unit and image processing system refinements the α7 III can shoot continuously at up to 10fps with AF/AE tracking (up to 8fps with minimal display lag in live-view continuous shooting mode) for easy stable shooting of even intensely active subjects. Up to approximately 177 JPEG images (standard) in full resolution 89 compressed RAW images or 40 uncompressed RAW images can be captured in one continuous burst. An electronic shutter allows silent vibration-free shooting of wildlife and other sensitive situations when even slight noise can mean missing an ideal shot.

Enhanced operability for continuous shooting
Images captured in continuous shooting mode can be displayed as a group and such groups can be deleted or protected in one quick operation. Furthermore with higher burst capacity and UHS-II media compatibility the camera significantly streamlines the operation of writing data to memory cards. The Fn button and menu button can be operated to change settings immediately after continuous shooting while data writing is in progress.

Anti-flicker shooting
Flicker from fluorescent and other artificial lighting is automatically detected and shutter action is timed to minimize the flicker's effect on still images. This suppresses exposure and colour anomalies at the top and bottom of images shot at high shutter speeds as well as exposure and colour inconsistency between continuous shots so you can take images indoors with more confidence.