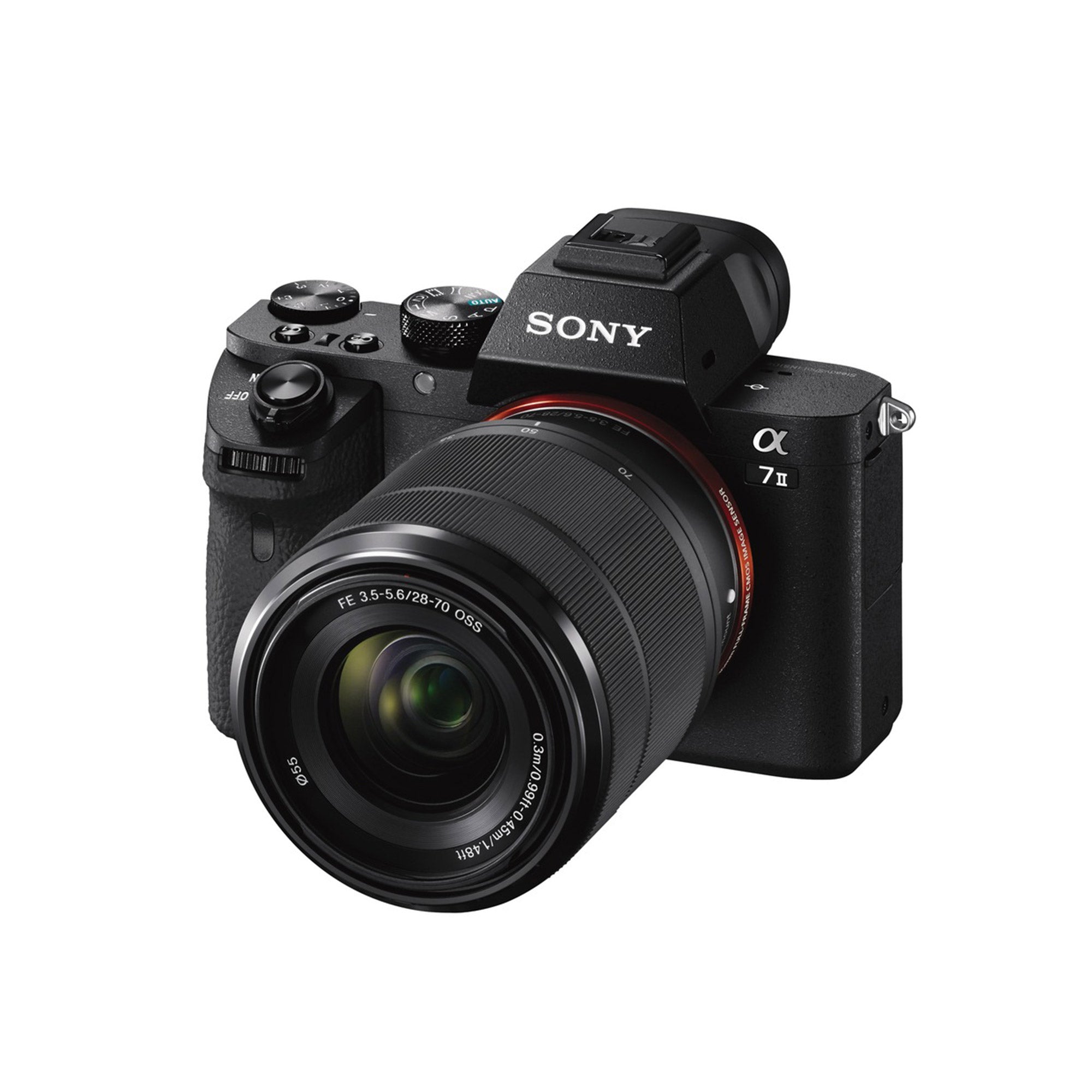 a7 II Full-Frame Mirrorless Camera with 28-70mm Lens
Sony Alpha a7II Mirrorless Camera with FE 28-70mm f/3.5-5.6 OSS Lens
5-axis image stabilization
The α7 II dramatically expands your range of expression by compensating for five types of camera shake during handheld shooting of still images and movies. The highly effective 4.5-step compensation lets you confidently zoom in faraway subjects, snap detailed close-ups, capture night scenes and more — all with minimal camera shake blur.
Compatibility with wide-ranging mountable lenses
New 5-axis image stabilization lets you enjoy unparalleled handheld shooting freedom with more of your favorite mountable lenses. The short flange-back distance in the E-mount α7 II contributes to broad lens compatibility.
Automatic optimization for every α lens
Confidently use your favorite E-mount and A-mount lenses, knowing the α7 II will analyze information from the lens to optimize depiction performance and 5-axis image stabilization for the particular lens you mount. When using E-mount lenses with optical stabilization (OSS), the α7 II combines the best of in-lens and in-camera image stabilization.
High-performance Fast Hybrid AF
The newly enhanced Fast Hybrid AF system delivers extremely high-speed response, highly accurate prediction and wide area coverage for autofocusing and tracking you can always depend on. It's remarkably fast for a full-frame camera AF system (30% faster than the α7) and accurately predicts subject movement so you can steadfastly track your subject.
Focal plane phase-detection AF with A-mount lenses
The α7 II offers focal plane phase-detection AF even when an A-mount lens is mounted via LAEA3(LA-EA1) mount adaptor. So you can take advantage of the wide AF coverage , high-speed response, high tracking capability and high optical performance of A-mount lenses.
35mm full-frame 24.3-megapixel Exmor™ CMOS sensor
The image sensor delivers beautiful images from corner to corner and stunning 24.3-megapixel resolution. You'll enjoy low noise, an extremely wide dynamic range, and amazingly rich and subtle gradations. Moreover, innovations that could only be achieved by Sony reproduce details more faithfully so that every scene looks incredibly real.
BIONZ X™ image processing engine
BIONZ X faithfully reproduces textures and details in real time, as seen by the naked eye, via extra high-speed processing capabilities. Together with front-end Large Scale Integration that accelerates processing, it enables more natural details, more realistic images, richer tonal gradations and lower noise when shooting still images and movies.
Supports 14-bit uncompressed RAW format
New compatibility with 14-bit uncompressed RAW format lets you choose the optimal format for your needs. The camera thereby ensures supreme quality of tonal gradation to maximize the benefit of the image sensor's wide dynamic range.
Robust magnesium alloy body
The remarkably compact and lightweight body is solidly built to withstand the rigors of shooting in the field. It's the ideal blend of light weight, solid reliability and steady handling, thanks to a top cover, front cover and internal structure constructed of rigid magnesium alloy.
Robust lens mount
The strength and rigidity of the body and lens mount have been enhanced to provide an especially solid foundation for mounting large, heavy lenses such as super telephoto lenses and those preferred for movie shooting.
Enhanced grip and shutter button
The grip is refined in shape and height to support a more secure grasp of the camera even when a large lens is mounted. This also contributes to more confident operation of the shutter button and dials. Moreover, the shutter button has been reshaped and shifted forward to enable more natural shooting with less camera shake.
Full-frame expression without the bulk
The α7 II packs powerful moviemaking capabilities in extremely compact dimensions. You can create movies of breathtaking visual and sound quality with exquisite background blur, remarkably clear details, and the sensitivity to bring dark scenes to vibrant life. Features like Picture Profile and P/A/S/M modes further expand your creative options.