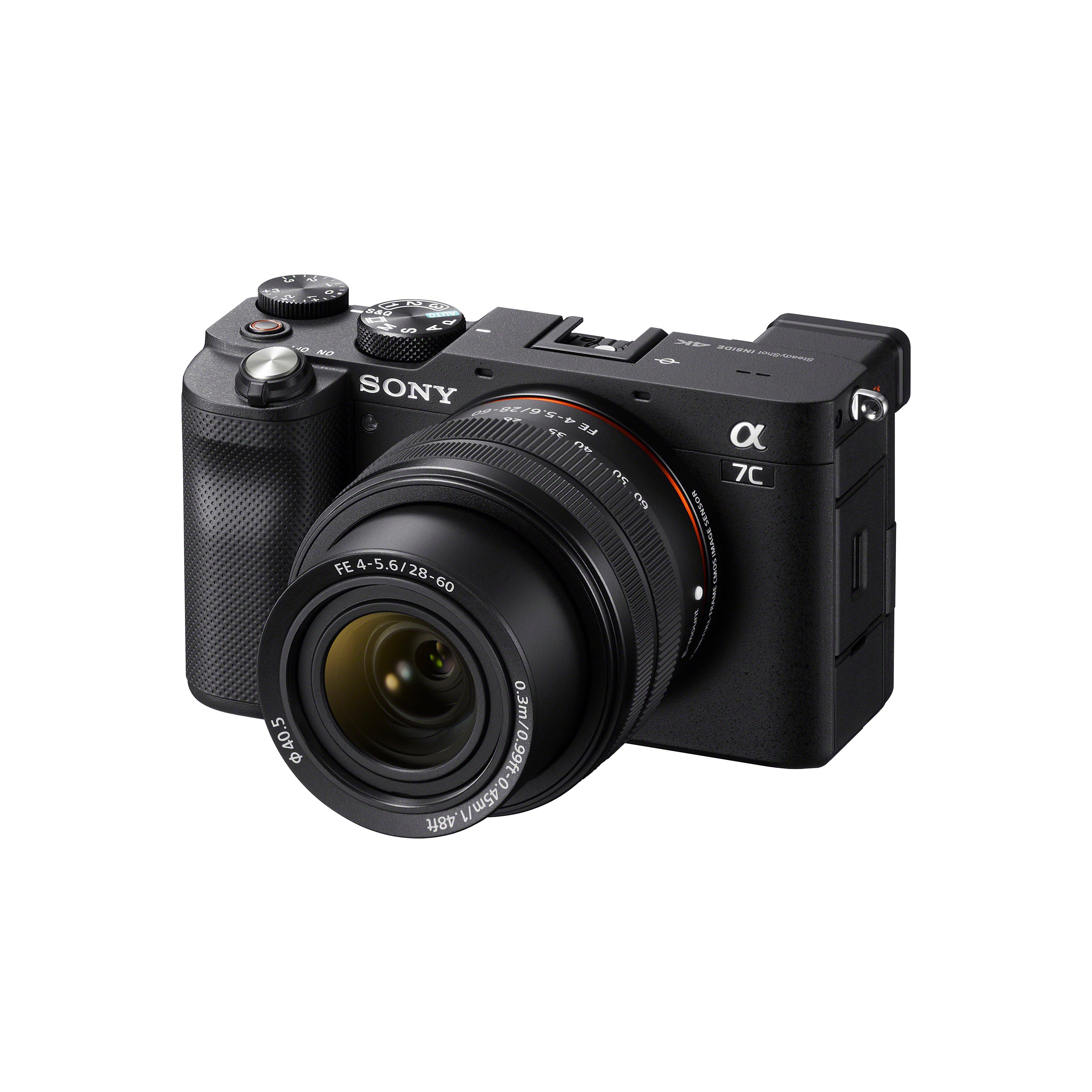 a7C Compact full-frame camera with 28-60mm Lens (Black)
The world's smallest and lightest full-frame system
Introducing the smallest and lightest full-frame digital interchangeable-lens system with optical in-body image stabilization (with FE 28–60 mm F4–5.6 lens). Without compromising the performance of a full-frame camera the component layout body structure and internal mechanisms are all thoroughly reimagined. Operability and toughness have been optimized within a body that is approximately 19% smaller in volume and 22% lighter than the α7 III at only 509 grams.

Expressiveness only possible with a full-frame sensor
A 35-mm full-frame image sensor is about 30x larger than a 1/2.3-type smartphone sensor and even 2.3x larger than an APS-C sensor. By capturing significantly more light it opens up new creative possibilities through wider dynamic range less noise and higher perceived resolution. Deep bokeh using shallow depth of field is also possible in combination with a bright (wide-aperture) full-frame lens.

Faithfully capture what you see
The back-illuminated Exmor R™ CMOS sensor and BIONZ X™ image-processing engine work together beautifully. The extra-large pixels of a 24.2-megapixel full-frame sensor collect more light for a 15-stop wide dynamic range and smoother gradations from shadows to highlights. Excellent subjective resolution and reduced noise pair with precise colour reproduction for beautifully accurate skin tones and natural textures.

Stunning bokeh enabled by a full-frame sensor
Bokeh is selective focus with a blurred background that makes the subject stand out. Portraits or close-ups are enhanced with new meaning and depth. The α7C with its full-frame sensor can achieve bokeh when a smaller sensor-size camera with the same f-stop lens might not. When paired with over 50 lenses available from Sony the α7C becomes an excellent choice for creative photographic composition and movie creation.

Impressive low-light images
With its large pixel size in dimly lit situations or at high shutter speeds the camera takes beautiful pictures with low noise even when in the high-sensitivity range. Standard ISO is from 100 up to ISO 51200 (expandable from ISO 50 to ISO 204800). Noise reduction is designed to be particularly effective in the common mid-sensitivity range to faithfully reveal textures and detail in shadows.

Express yourself with E-mount lenses
Over 50 Sony E-mount lenses enable broad creative expression and a full-frame sensor allows you to leverage the full capabilities of Sony lenses. From wide angles to enhanced creative compression effects on telephoto lenses with the full-frame α7C the possibilities are endless.

The engine that powers your images
The BIONZ X image-processing engine reflects Sony's expertise in imaging technologies. It processes images with the front-end LSI in 16 bits and outputs 14-bit RAW data for richer more natural gradations even in silent or continuous shooting modes. Combined with the Sony sensor it delivers excellent colour reproduction noise reduction and low-light performance.

Shoot sharp images without hand shake
5-axis image stabilization lets you zoom get close-ups and capture night scenes with greater clarity. Compensation is equivalent to a 5.0-stop-faster shutter speed. [1] Pitch [2] Yaw: for long focal lengths [3] Horizontal [4] Vertical: for sideways/up-down during close-ups and macros [5] Roll: for rotation during long exposures

Stay focused anytime anywhere
Auto focus is improved by optimally applying the advancements of the α9 including the unique 4D FOCUS for wide-area ultra-fast and steadfast tracking over time. With 693 phase-detection and 425 contrast-detection AF points the sensor provides wide and high-density AF covering approximately 93% of the image.

Continuous focus on active subjects
When you're tracking a fast-moving subject the camera can utilize built-in AI-based Real-time Tracking. This subject-recognition algorithm draws on colour pattern (brightness) subject distance (depth) and face/eye information to recognize and hold onto your subject.

Capture the eyes to capture the shot
Real-time Eye AF highlights Sony's Speed x AI technology. For both stills and movies when a face is partially hidden looking down or even backlit focus stays on the subject's eye for reliably impressive portraits. It supports all AF modes and when [Face/Eye Priority in AF] is set to ON it's activated three ways: custom key half-pressing the shutter or the AF-ON button.