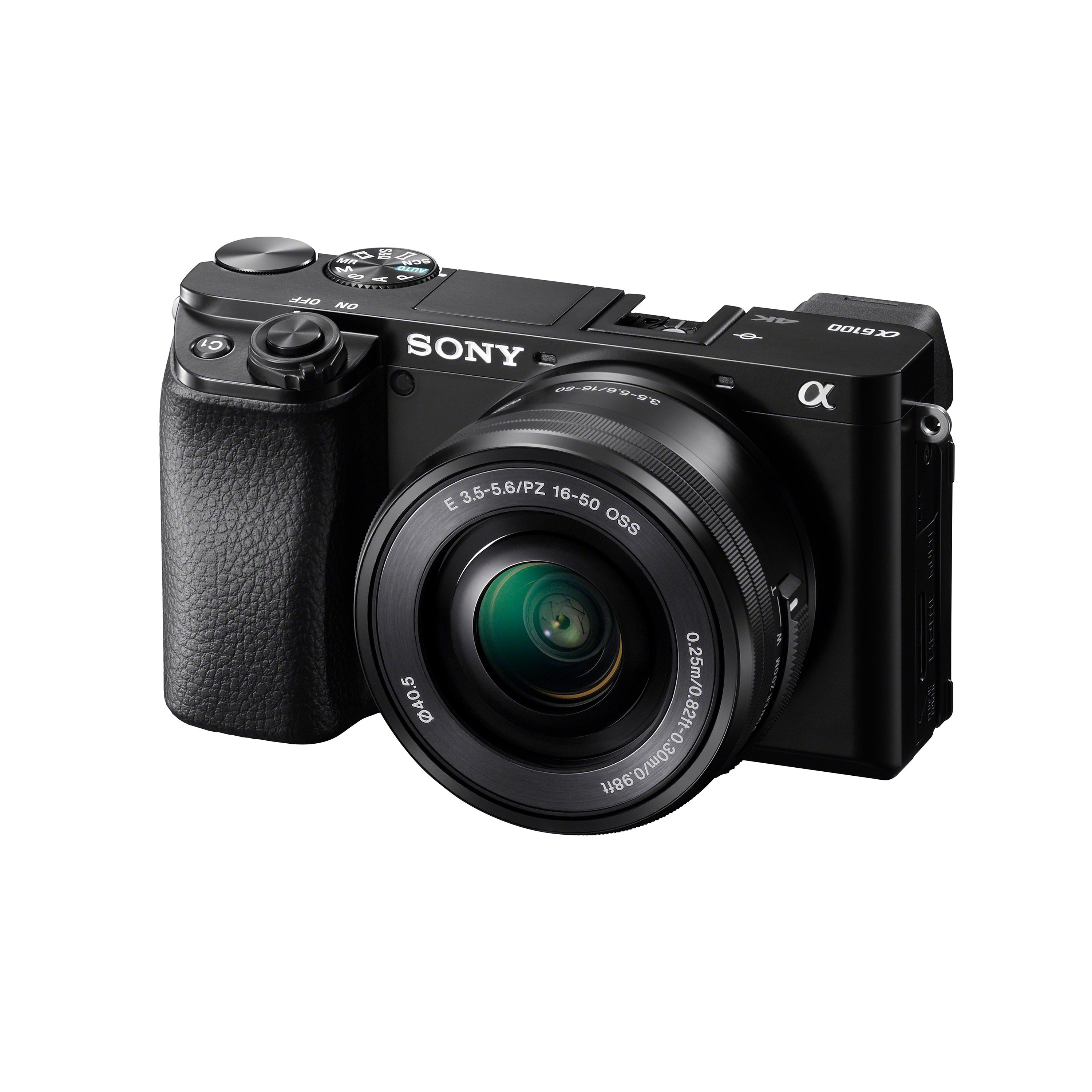 a6100 E-mount APS-C Camera with 16-50mm Lens
Unparalleled AF performance for breathtaking shots
Fast accurate autofocus captures fleeting moments in stunning detail thanks to a combination of innovative technologies. A total of 425 phase-detection AF points work in conjunction with contrast-detection AF to achieve a remarkable 0.02-s acquisition speed while High-density AF Tracking Technology reliably follows even erratically moving subjects.

Real-time Tracking maintains steady focus on your subject
When you're tracking a fast-moving subject the camera's automatic motion tracker uses an AI subject recognition algorithm that draws on colour pattern (brightness) subject distance (depth) and face/eye information to recognize and maintain focus on your subject.

Reliable Real-time Eye AF for better portrait shots
The camera's Real-time Eye AF system detects and autofocuses on the eyes of your subjects when you half-press the shutter and you can even prioritize your subject's left or right eye. When AF-C is set it maintains a stable focus even when the face is partially hidden or backlit or the subject is facing downward.

Real-time Eye AF for animal
The subject-recognition technology used in Real-time Eye AF has been adapted to support animal as well as human. When activated it provides fast precise automatic detection and tracking of animals' eyes for better pet portraits and wildlife shots.

High-speed continuous shooting with AF/AE tracking
Capture every instant of fast-moving action with continuous shooting at up to 11fps or 8fps in silent-shutter mode and for up to 77 frames. Display lag has been minimized so even in the live-view mode up to 8fps can be precisely captured. Continuously shot images can conveniently be displayed in groups in playback mode.

Accurate autofocus even in dim lighting
Highly accurate autofocus is possible even in dark settings thanks to the camera's sophisticated AF algorithm. High AF sensitivity means reliable AF-S autofocus all the way down to EV -2.

Versatile touch operations
The camera's LCD panel supports intuitive touch operations such as Touch Pad (to smoothly move the focus point) Touch Focus (to set the focus point) Touch Shutter (to release the shutter) and Touch Tracking (to activate Real-Time AF).

Focus Magnifier for finer focus adjustment in both MF/AF modes
When extra-accurate focus is called for such as when you're taking macro shots you can display a magnified view of the general area you want to focus on. You can then finely adjust the exact point of focus using the touchscreen or the focus point selector.

Easy manual focus with clearly visible peaking
When you're using manual focus the camera will colour-highlight the most sharply focused section of the entire image area. Selectable high contrast peaking colours include blue red yellow and white giving you clear visibility of in-focus areas when you're doing the delicate focusing required for macro or portrait shooting.

An innovative image-processing system
The camera's APS-C size 24.2-megapixel ExmorTM CMOS sensor provides a wide sensitivity range and excellent low-noise performance. In conjunction with the latest-generation BIONZ XTM image processing engine it delivers beautiful high-resolution images with superior image clarity and texture reproduction.

Stunning image quality low noise and a wide ISO range
The camera has a wide sensitivity range of ISO 100–32000 expanded up to 51200 for stills. Even when you're shooting at high sensitivity in dim lighting excellent low-noise performance ensures high-quality images. By applying noise reduction and sharpness processing selectively across the frame Area-specific Noise Reduction and Detail Reproduction Technology contribute to fine reproduction of subject textures and shadow details.

Lifelike skin tones
The skin tone feature inherited from our latest highly acclaimed full-frame cameras captures the natural beauty of human skin tones helping you take portraits that look their best.