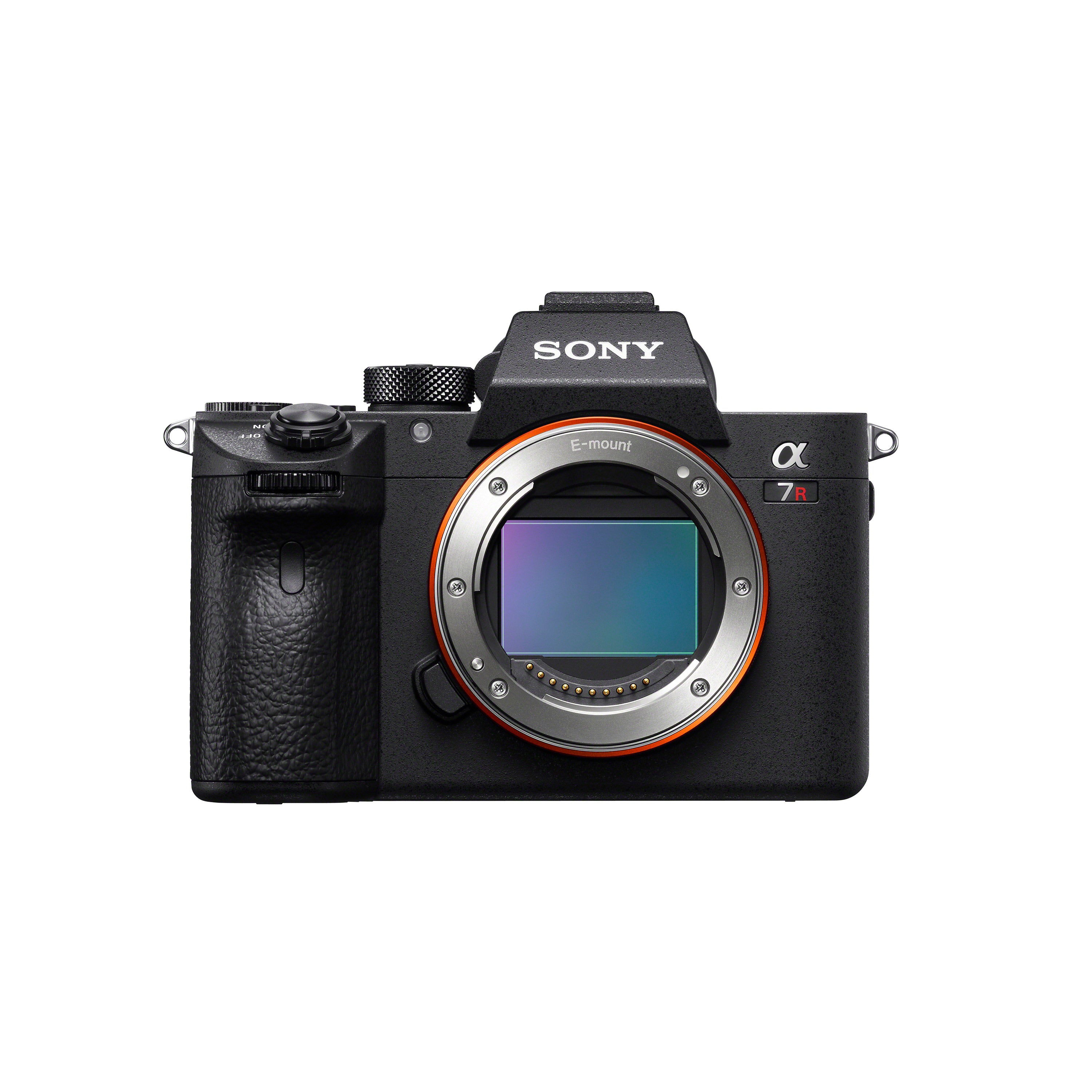 a7R IVa 35 mm full-frame camera with 61.0 MP
World's first 61MP pixels full-frame sensor
The Alpha 7R IV features the world's first 35mm full-frame back-illuminated CMOS image sensor with 61MP effective pixels, delivering depth and dimension that was once only available in medium-format cameras. The back-illuminated structure and effective area specific noise reduction techniques combine to deliver an extraordinary blend of low noise and high sensitivity for enormous imaging potential.
15-stop dynamic range
The Alpha 7R IV boasts an impressive 15-stop dynamic range at low sensitivities, resulting in smooth natural gradations ranging from deep shadows to highlights, and utilizes algorithms from many of the latest Alpha™ cameras to maintain outstanding color reproduction. 
BIONZ X processing maximizes sensor potential
Advanced Detail Reproduction Technology and Area-specific Noise Reduction - both features of Sony's BIONZ X image processing engine - have been carefully tuned to maximize the performance of a sensor that offers approximately 1.5 times more resolution than the highly acclaimed Alpha 7R III, achieving extremely fine, realistic reproduction of textures and details. 
Low noise at High ISO
A standard ISO range that extends from ISO 100 up to ISO 32000 with undiminished quality is expandable to ISO 50 to ISO 102400 for still images, make it possible to achieve optimum image quality in just about any light. Noise is effectively minimized even at high sensitivities, maintaining excellent image quality even with this sensor's high pixel count. 
16-bit processing and 14-bit RAW output
Image sensor output is processed in 16-bit form by the front-end LSI and BIONZ X image processing engine before being output as compressed or uncompressed 14-bit RAW files that have smoother, more natural gradations for higher overall image quality. 14-bit RAW output is available even when shooting in silent or continuous mode.
Serious speed up to 10fps with AF/AE tracking
An advanced mechanical shutter unit and updated image processing algorithms allow the innovative new full-frame Alpha 7R IV to shoot full 61MP resolution images at up to 10 fps with continuous and accurate autofocus and auto exposure (AF/AE) tracking for up to approximately seven seconds in JPEG and RAW, and approx. three times as long in 26.2MPii APS-C crop mode. These high-speed options ensure that fast moving subjects can be captured with extreme accuracy and incredible image detail. 
4D FOCUS – Wide, fast, reliable AF gets the shot
The new image sensor in the Alpha 7R IV features 567 phase detection points in a high-density focal plane phase-detection AF system, covering approximately 99.7% of the image area vertically and 74.0% horizontally. High-density focal plane phase-detection works with 425 contrast AF points in a Fast Hybrid AF system that can handle a huge volume of data at high speed, snapping rapidly into focus with just about any subject and situation. Tracking performance has been improved too, despite the significant increase in resolution. 
Real-time Autofocus Tracking
Real-time Tracking is a state-of-the-art feature that employs artificial intelligence to tenaciously track moving subjects when shooting stills or movies. Accurate focus is maintained automatically while the shutter button is half-pressed. The subject to be tracked can also be specified by touching it on the monitor when the Touch Tracking function is engaged. An advanced subject recognition algorithm uses color, pattern (brightness), and subject distance (depth) data to process spatial information in real time. If the subject is a person, AI is used to detect and keep track of the subject's eye and face in real time for extremely high tracking precision. The focus area will seamlessly change between face and eye according to the condition of the subject. 
Real-time Eye AF
Real-time Eye AF employs artificial intelligence to detect and process eye data in real time, and track the subject's eye with unprecedented precision. This function can be activated via an assigned custom key, or by simply pressing the AF-ON button or half-pressing the shutter button. When used with the Real-time Tracking function, tracking will continue even if the camera is temporarily unable to locate the subject's eye, so it is easier than ever to shoot dynamic portraits of moving subjects. In addition to automatic eye selection when using Eye AF, it is also possible to manually preselect the subject's right or left eye.