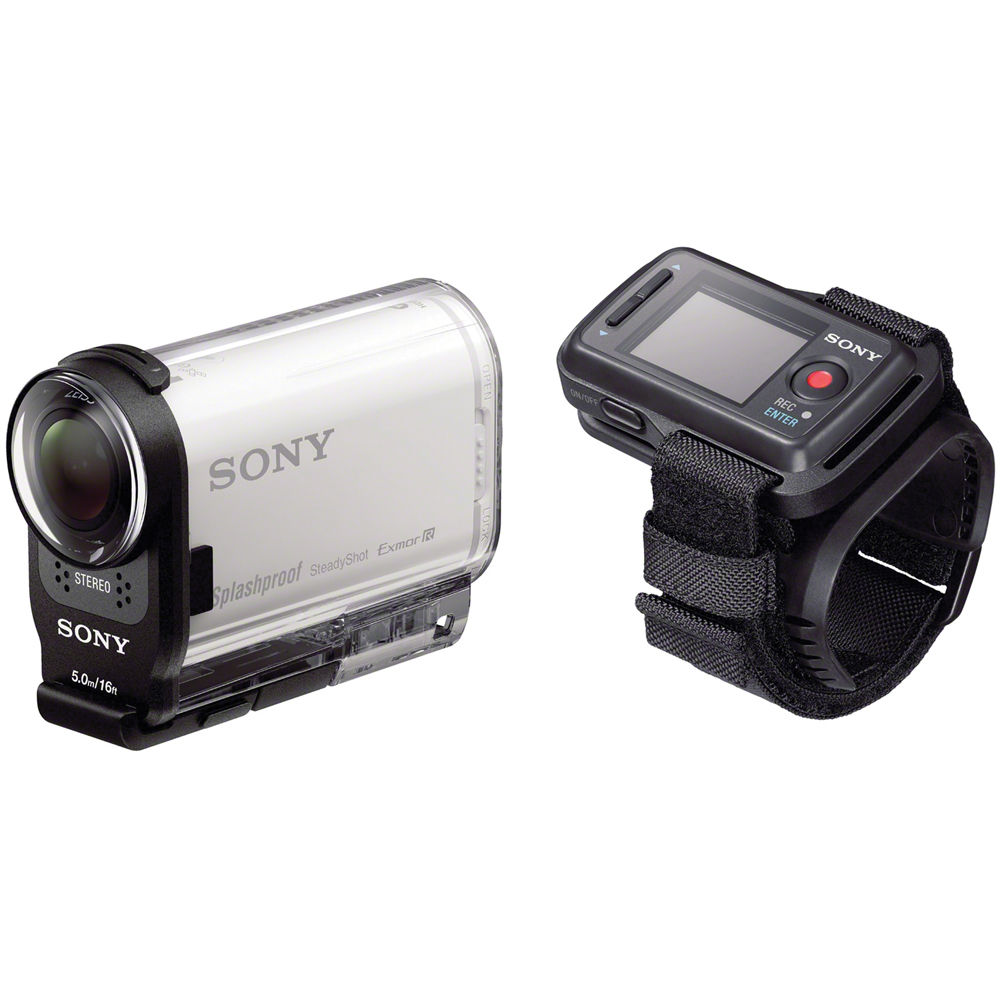 AS200V Action Cam with Wi-Fi & GPS
For detailed information on this and similar products visit Sony.ca
Shoot in low light with Exmor R™ CMOS Sensor
Faithfully reproduce every aspect of the scene, even in low light. The Exmor R CMOS sensor's distinct design puts wiring behind the light-capturing photo sites for vastly improved sensitivity and reduced noise. Combined with higher-speed parallel signal processing and more rapid signal conversion, images have a wider dynamic range and rich gradations for intense detail and clarity.  

BIONZ X™ for superior detail and texture
All digital cameras need to convert the light captured by their sensor to a beautiful digital photograph. The engine that powers this conversion is just as important as your lens and a high-resolution sensor--so Sony developed the remarkable BIONZ X processor, allowing more natural details, more realistic images, richer tonal gradations, and lower noise while shooting both photos and movies.

World-renowned ZEISS optics
Leveraging over 150 years of experience in precision optics, the ZEISS lens gives your recordings intense contrast and sharpness, free from glare and reflection thanks to an advanced multi-layer coating.

Full pixel readout without pixel binning
The sensor reads out image data from every pixel which frees the video from aliasing, moire and false colour artifacts.

Advanced SteadyShot beats bumps and blur
From the rockiest trail to the wildest surf – you want to shoot crisp, clear video your audience will actually enjoy watching. And better yet, advanced SteadyShot is more effective against low-amplitude vibration—such as that from radio-controlled helicopters. So now you can get amazing panoramic shots from your drone with shake-free clarity.

Sharp, ultra-wide 170° lens
Get epic wide-angle views with the 170˚ ZEISS Tessar® lens. Or switch to a SteadyShot-stabilized 120˚ view. Either way, you'll always be capturing beautiful shots of the most challenging ski slopes, mountain trails, or pitted asphalt paths.

Built-in stereo mic captures quality sound
Make a great movie better with great audio; built-in stereo microphone allows you to capture sounds of you adventure sterically and naturally, while the Wind Noise Reduction feature deserves a clear sound track.

Live Streaming via Ustream®
Share ski runs, killer waves (and wipeouts) in real time. Stream scenes as they happen with high-quality picture and sound. 

XAVC S for pro-level recording
Sony' s professional grade codec is available in consumer cameras for stunning footage at home with high-bitrate recording.

Motion Shot LE
Capture an entire action sequence in a single frame. This feature creates a composite image of a subject in motion, with variable settings for different burst speeds, which are: 10fps/1 second, 5fps/2 seconds, and 2fps/5 seconds.

Interval Still Recording lets you get creative with videos
Capture subtle movement with detail and precision. Interval recording takes a still photo every 5, 10, 30 or 60 seconds, so they can be stitched together into a time-lapse video. This is especially useful for continuous recording over a prolonged period.

Burst Shooting
Capture fast-moving action with burst shooting. This allows you to capture maximum of 10 high-quality shots of a trick or transition, making it the perfect feature for those who love go back and analyze their style. Settings are 10fps/1sec, 5fps/2sec, and 2fps/5sec.

Convenient Loop Recording
Don't worry about missing the perfect moment with loop recording. Loop overwrite shooting can be chosen with duration options of 5, 20, 60, 120 minutes, or "unlimited". Use it to capture the decisive moment without worrying about running out of capacity.

Multi Camera Control
Use up to five cameras to get exciting ground-up or head-down shots. And control them all effortlessly with the optional Live-view wrist remote and smartphone with PlayMemories Mobile™ app.

Manual control for pro-style movies
Explore sophisticated shooting features for pro-style movies. Use advanced manual settings like white balance and AE shifting, and optimise brightness and hue to match images of other camcorders for easier movie editing.

Highlight Movie Maker for speedy workflow
Save time by quickly finding your highlight points and start editing immediately. Highlight Movie Maker will also take the best scenes automatically and create a highlight movie—complete with background music. You can also share your work immediately by using smartphone.

Add music to edited video
Add favourite melodies — even your own tunes — to the movie you're editing as soundtrack music, and create your own movie style.

Full command with Live-View Remote
RM-LVR2 lets you make use of on-site playback and footage checking, and delete unnecessary footage to optimise recording capacity.