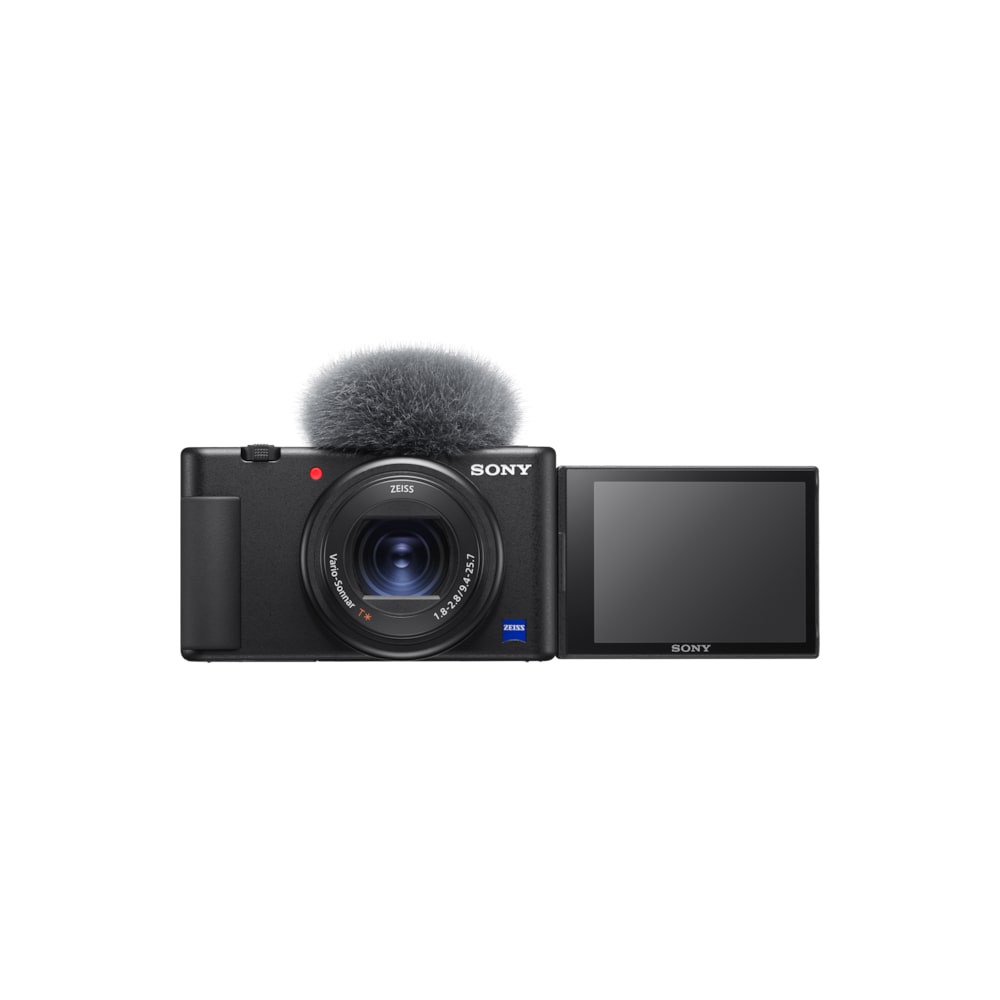 Sony ZV-1 Camera for Content Creators and Vloggers (Black)
Vari-angle LCD screen for selfie shooting with confidence
The flip-out LCD screen lets you check your framing for vlogs and selfies without the view being restricted by accessories like microphones. The touch panel control makes intuitive adjustment of focus shutter and other settings simple even during selfie shooting.

Directional three-capsule mic and a bundled wind screen
Record your voice clearly even in a crowd with the built-in three-capsule microphone. The unique design and structure uses spatial filtering to capture clear audio in front of the camera with fewer distracting ambient sounds. The included wind screen can also be attached to shoot outdoors even in windy conditions with confidence.

Optimized for easy and natural selfies
The ZV-1 is designed for quick and easy vlogging with an ergonomic grip for stable selfie shooting and a bright recording lamp so you'll never forget to hit record again.

Compatible with all-in-one Bluetooth® grips
The ZV-1 is compatible with our range of shooting grips including the GP-VPT2BT with Bluetooth® wireless technology for easy remote control of recording zoom and even assignable custom controls without cables. The ideal accessory for vlogging our grips offer stable and flexible shooting and also expand into a mini tripod for compact hands-free capture anywhere.

Beautiful and natural skin tones for everyone
Sony's enhanced colour science ensures lively natural imagery and is especially strong across the diverse range of skin tones. It is available for both movie and still image capture and is supported with a Soft Skin option to smooth blemishes.

High image quality and easy advanced effects
Despite its pocket-friendly design the ZV-1 is equipped with a large 1.0-type Exmor RSTM CMOS sensor for high-quality images even in dim or challenging lighting conditions. In addition the large sensor delivers professional-looking images with a blurred background bokeh along with high-speed data readout for stunning 4K and super slow motion video capture.

Leave the focusing work to the camera with Real-time Tracking
Just turn your face to the camera and the camera will recognize colour patterns (brightness) subject distance (depth) and face/eye information and automatically snap into precise focus tracking. In addition when the camera recognizes eyes faces or subjects a frame is displayed on each target so you can make sure that the subject is in focus and shoot without worrying.

Quickly shift focus between subjects
The high-performance focal-plane phase-detection AF sensor enables high-speed and high-precision focusing with Fast Hybrid AF. The sensor uses 315 phase-detection focusing points across a full 65% of the screen area to quickly switch between subjects without hunting. When taking a selfie the camera can switch focus with just a touch from your face to the background and back again so sharp and accurate focus comes easy.

Beautiful defocused background bokeh with ease
Capture expressive selfies with the professional look of a soft-focus background. The unique Bokeh Switch (C1 button) bypasses all the complexity of exposure balancing and depth-of-field control and replaces it with a single button. Simply press to switch between having everything in focus or blurring the background to expertly feature your subject.

Make your reviews stand out with Product Showcase Setting
Take your product reviews to a new level of professionalism with the Product Showcase Setting for fast and precise focus transitions from you to your featured product. The C2 custom button activates Product Showcase Setting by default deprioritizing your face for focusing and widening the field of view. Simply holding a product up in front of the camera will switch the focus point from your face so there's no more autofocus frustration and you can efficiently shoot video reviews with ease.