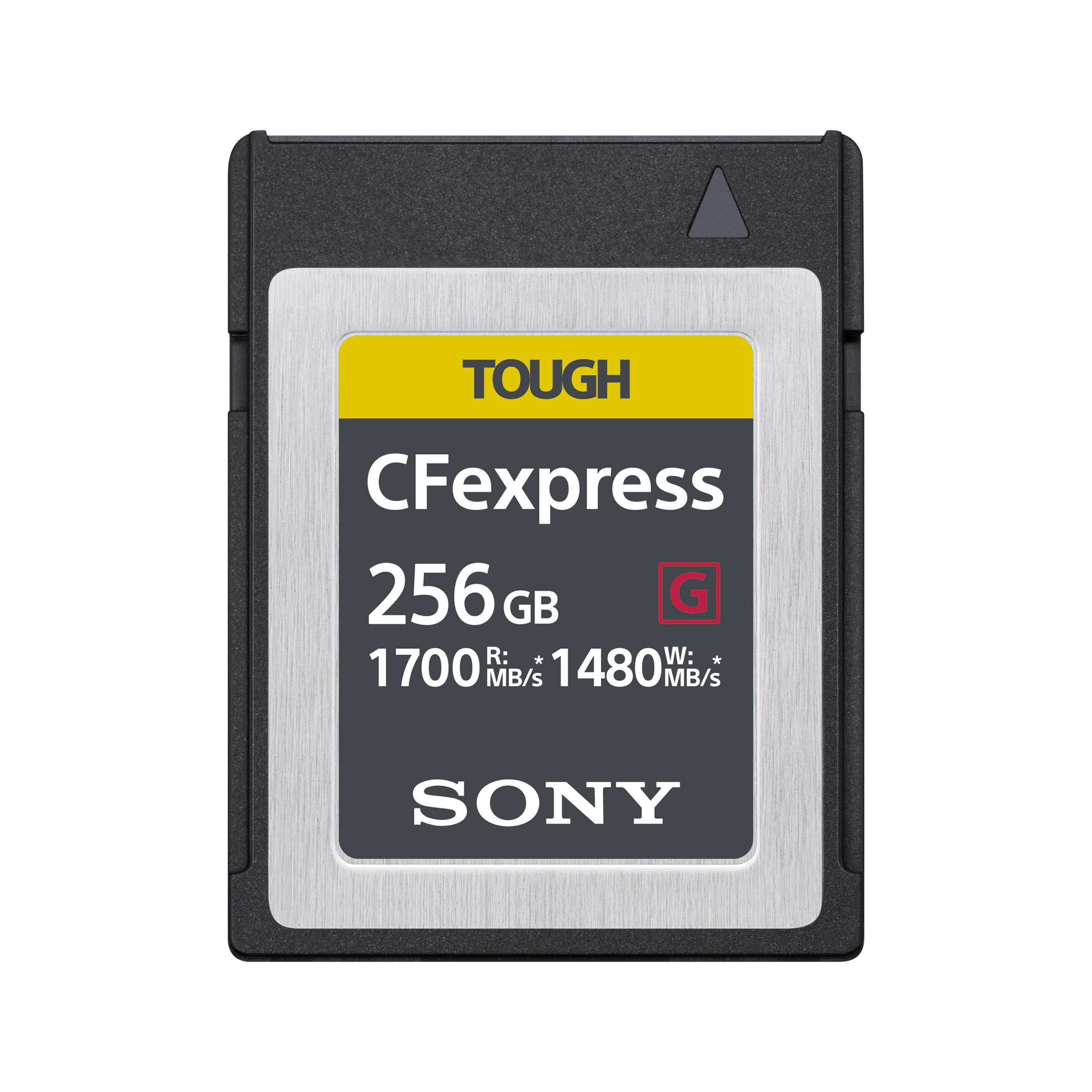 CEB-G Series CFexpress Type B 256GB Memory Card - Open Box
Built for breathtaking speed
Whether you're taking high-resolution burst shots on full-frame DSLR/mirrorless cameras or high-bitrate video on a professional-grade camcorder this card has the incredibly fast speed of up to 1480 MB/s you need to capture the action. Be ready for the high speed of future high-end cameras and camcorders.

Made incredibly tough
Designed tough with superior strength more than 3x greater than the CFexpress standard of bending with additional rigidity tested to 70 newtons of force. Capable of withstanding 5-metre drops extreme temperature X-rays electrostatic and intensive UV sunlight it's ready for the most challenging environments.

Work faster be more productive
A natural evolution of XQD® and CFAST® standards CFexpress memory cards open up worlds of opportunity for professionals. Handling high-resolution files and high-speed recordings in a small but rugged format it's perfect for speeding up workflows and improving productivity allowing you to have more time available for creative work.

Rapid-response photography
With write speeds of up to 1480 MB/s this is one of fastest memory cards around. Ideal for uncompressed continuous RAW shooting of fast-moving action such as motorsports and wildlife.

High-grade videography
CFexpress enables stable high-bitrate video capture at 4K resolution and beyond making it a natural partner for high-end camcorders.

Ultra-efficient editing
Transfer and backup large-sized data such as batches of high-resolution photos or high bitrate videos to a PC faster than ever with the optimized card reader MRW-G1 leaving you more time to retouch and edit your content.

Speed up with the CFexpress card reader
Optimized for Sony CFexpress memory cards this optional card reader MRW-G1 allows you to transfer data via a USB interface and take full advantage of high-speed backups and more efficient workflows. It's compact easy to carry and works with both Sony CFexpress TypeB and Sony XQD G series and M series memory cards.

Rugged. Reliable. Ready.
Take your CFexpress memory card to sports events location shoots or on outdoor expeditions. It's designed for extended professional use in the most challenging environments such as snow-covered mountains and sand-blown deserts so you can shoot swap and store with total confidence.

For the roughest places
With a tough design CFexpress memory cards offer superior strength up to 3x greater than the CFexpress standard with additional rigidity tested to 70 newtons of force and can withstand falls up to 5 metres high.

For the toughest conditions
You can rely on CFexpress memory cards to work faultlessly in extreme temperatures X-rays electrostatic shocks and intensive UV sunlight.

Media Scan Utility: Scans and monitors your memory
Over time flash memory wears out and no longer records data. Media Scan Utility automatically scans your CFexpress memory keeping you informed of its condition so you can take action before the limit is reached. Card reader MRW-G1 is needed to scan Sony CFexpress Type B memory cards.

File Rescue: Recovers lost files
Even when things go wrong you can avoid disaster with downloadable rescue software for Sony memory card customers that recovers accidentally deleted files and corrupted photos and videos in today's most common formats.