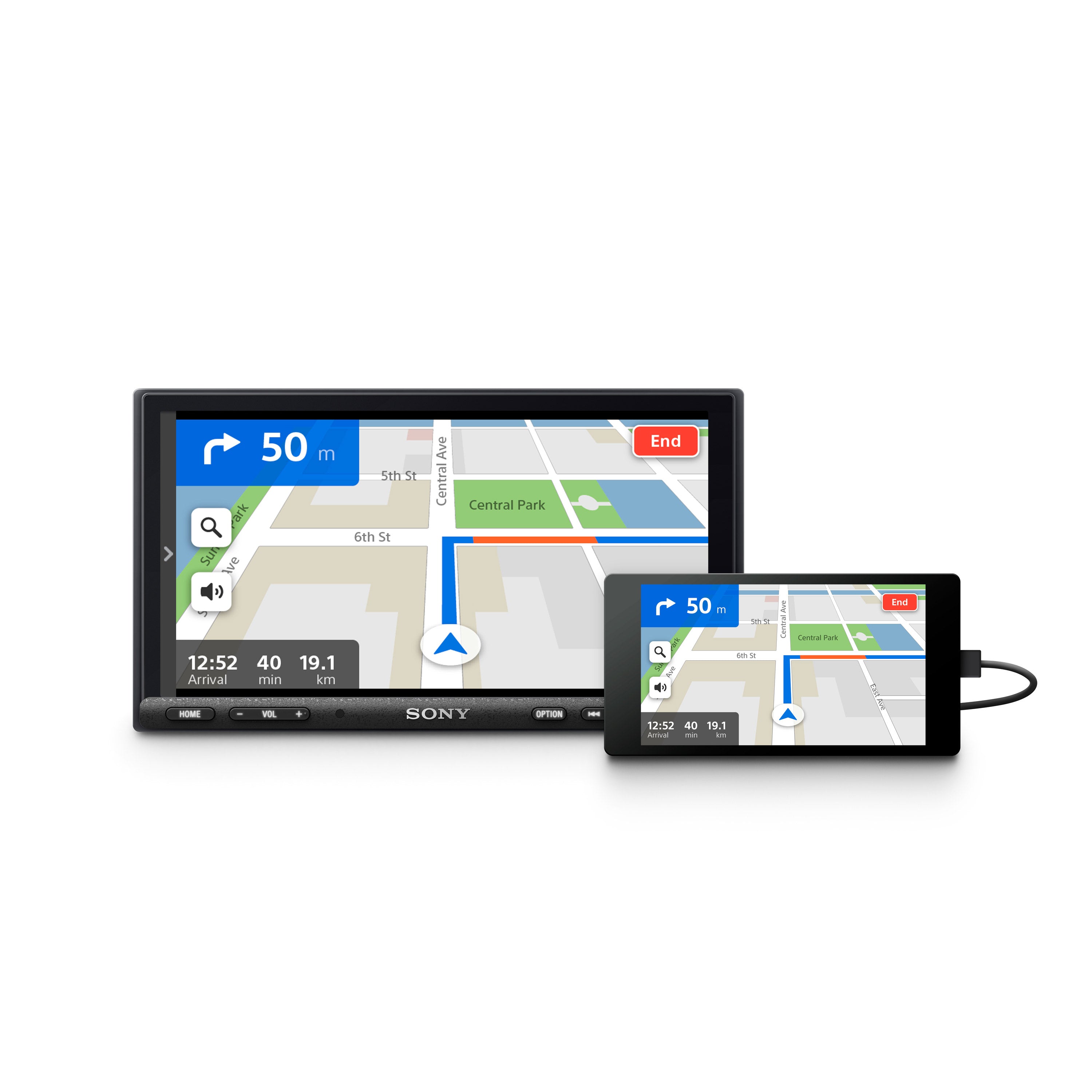 XAV-AX7000 | High Power Media Receiver
Use with your phone
Connect your compatible Apple or Android smartphone to get directions, stream music and more.
High-power amp
The four-channel amp gives you a level of power previously only available from external amps, built in.
Anti-glare capacitive touchscreen
The anti-glare 6.95" (17.6 cm) (diag.) display with a bezel-less panel fits seamlessly into the dashboard and offers improved visibility.
Smarter driving with intelligent voice control
Apple CarPlay and Android Auto™ make it safer and easier than ever to navigate, communicate and play music on the road. Just connect your smartphone to the XAV-AX7000 to see everything you need on the large touchscreen.
Siri with Apple CarPlay
Easily access the iPhone features you know and love, just by talking to Siri. Music, maps, phone calls, and messages are all under your control.
Voice Control with Android Auto
Use voice commands to dictate messages, take phone calls, or get help from Google Maps. You can even control music playback, just by talking.
Navigating with Apple CarPlay
Tell Siri where you're going, and it will give you real-time directions as you drive. 
Navigating with Android Auto
Use Google Maps to get directions and traffic updates whenever you need them.
WebLink compatible
Weblink is a lightweight app delivery platform designed especially for in-vehicle use. Using your Android or iOS device connection, you can interface with compatible apps on the XAV-AX7000 display — for reliable, responsive infotainment whenever you're on the road. 
4 x 100 W of on-road power
A built-in class-D amp delivers huge power with minimal interference, for audio that's crystal clear even at its loudest.
Optimized for excellence
Circuitry and components are carefully laid out for low-noise, highly efficient electric power transmission.
Precision power block placement
Placing the power block close to the input and amp minimizes power loss, while electrolytic capacitors ensure precise, responsive bass.
Heat ventilation
An oversized heat sink with an optimally designed fin structure ensures efficient ventilation to prevent overheating.
Hear music your way
Various customization options let you adapt the audio experience to your liking. With the Subwoofer Direct and 2-ohm Speaker Load option, you can hook up a subwoofer directly to the built-in class-D amplifier together with multiple speakers for deep, car-filling sound.
Subwoofer Direct & 2 Ω Speaker Load
No need for an external amp to drive the subwoofer. You can connect a subwoofer directly to the XAV-AX7000 while enjoying speakers on both front and rear doors. Channel 1 for the front-left and rear-left speakers. Channel 2 for the front-right and rear-right speakers. Channel 3 for the subwoofer. Channel 4 invalid.
Dynamic Stage Organizer for Music that Jumps From Your Dashboard
Sound waves are directional, so if your speakers are in your doors or under your dash, the audio may seem muddy or unclear. Dynamic Stage Organizer adjusts the signal, improving the stereo positioning so music sounds like it's coming from the dashboard.
Sculpt Your Sound with a 10-Band Equalizer
Tailor the sound to your personal preference with the 10-band graphic equalizer.
Build your Own Sound System with 3 x 5-Volt Pre-Outs
With the three 5-volt pre-outs, you can add components of your choice, like extra amplifiers and subwoofers.
Bezel-less anti-glare capacitive touchscreen
Bring up maps, sort through playlists, and make phone calls — all from a smooth, bezel-less display that integrates seamlessly with your dashboard. The 6.95" (17.6 cm) (diag.) screen with anti-glare design ensures improved visibility even in bright daylight.
Less reflection than ever
The anti-glare capacitive touchscreen incorporates an optical filter placed over the LCD panel to help prevent glare on screen when it is exposed to sunlight.