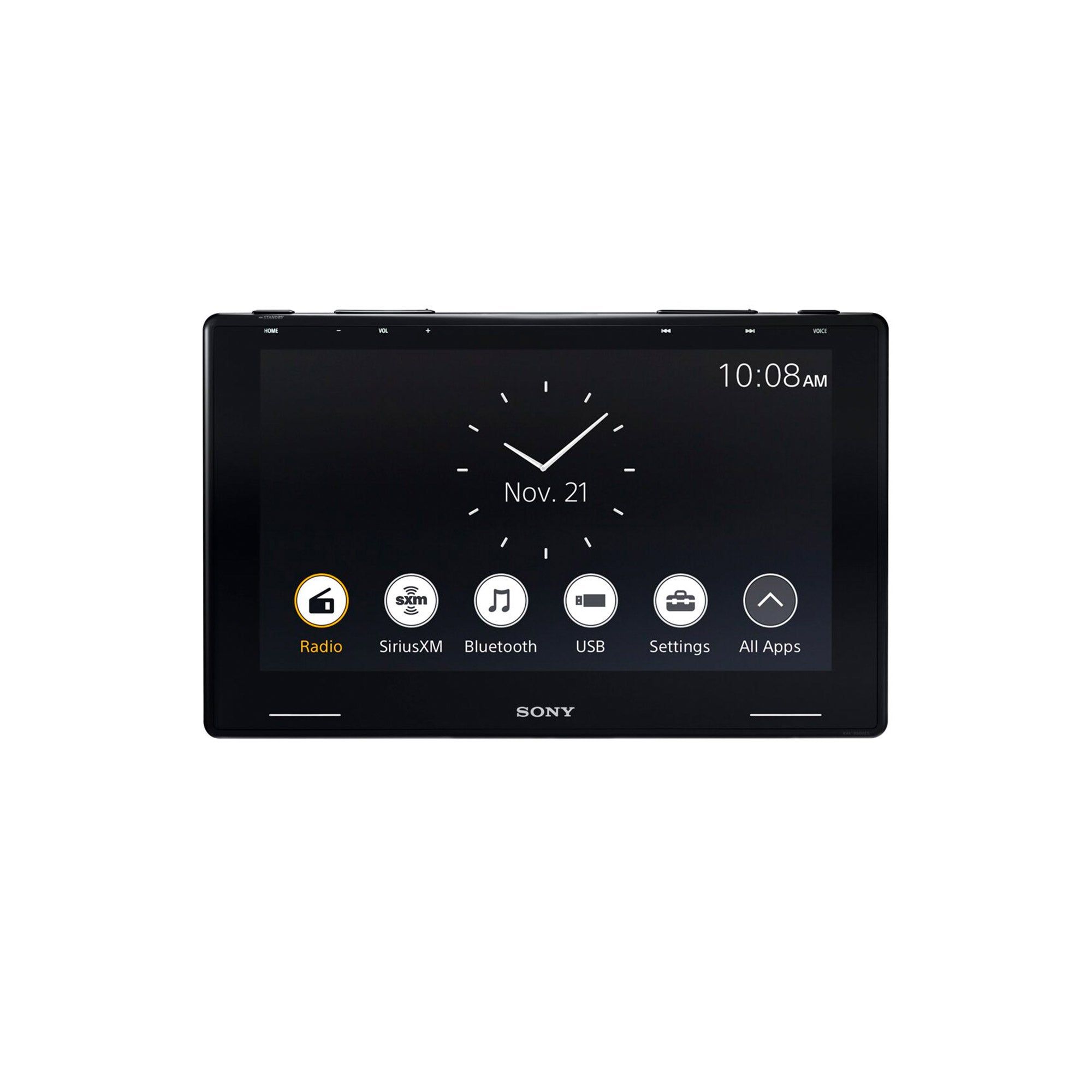 XAV-9500ES | 10.1" (25.7cm) Mobile ES™ High-Resolution Digital Media Receiver
Everything in view
Now updated with a 10.1" high-definition LCD panel and optically gapless design, it boasts best-in-class picture quality while assuring safer and easier operation than ever.
Gapless Anti-glare Capacitive Touchscreen
Unlike a conventional display, the LCD is bonded directly to the protective glass touch layer with a transparent adhesive. The result is an extremely precise touch experience, along with enhanced contrast and visual performance.
Easy mounting and adjustment
The sturdy and adjustable mount is designed for single DIN installation to suit a wide variety of vehicles. The four-way adjustment makes it easy to position the oversized display in your perfect spot.
The Way Artists Truly Intended
Enjoy the subtle nuances of studio-quality sound with High-Resolution Audio. Passion for music unites every component from signal to speaker, so it feels like the artist is performing right in front of you.
Choices for optimum performance
Carefully selected components ensure superb sound quality. The dedicated choke coil features powerful bass while filtering unwanted frequencies, for controlled and dynamic audio reproduction. Audiophile-grade capacitors deliver effortless power for clearness and tight bass, while multi-layer polymer capacitors help ensure low overall harmonic distortion and natural sound character.
Engineered for ultimate listening pleasure—ESS digital-to-analog converter 
Experience the same caliber of sound usually reserved for high-end home audio products, thanks to the ESS DAC chip—a premium converter that provides optimum quality, from all your digital music files. With high-performance 32-bit processing and eliminated timing jitter, this D/A converter delivers an unprecedented dynamic range and low harmonic distortion.
Anti-resonance dual-layer chassis
The dual-layer design of the chassis separates analog and digital circuitry, preventing electro-magnetic interference for uncompromised sound quality. 
Android Auto™
Use commands to dictate messages, take phone calls, or get help from Google Maps. You can even control music playback just by talking. Wireless connection available depending on your smartphone and country or region.
Sound Customization
The high-grade 192‑kHz / 24‑bit DSP offers pristine sound processing and time alignment—down to a remarkable 0.39" for each of the 6 addressable channels (4 speakers + 2 subwoofers via pre-out). A 14-band EQ lets you adjust the overall sound to your music or taste, and each of the 6 channels features independent 8-band parametric EQ to get optimum performance across different speaker configurations. Together with the 3-zone crossover, you can dial in the perfect match of front, rear, and subwoofers.
Full smartphone connectivity without the wires
Thanks to built-in Wi-Fi and the supplied GPS antenna, you can leave your smartphone in your pocket and still access full device integration. Access navigation, communication and entertainment—all via voice control without any cable clutter.
Apple CarPlay
Easily access the iPhone features you know and love, just by talking to Siri. Music, maps, phone calls, and messages are all under your control. Wireless connection available depending on your county or region.
High-Resolution wireless LDAC audio
Enjoy the convenience of Bluetooth wireless audio and exceptional sound quality thanks to LDAC. Connect compatible devices to stream audio at 96 kHz / 24‑bit sampling with bitrates up to 3x higher (990 kbps) than conventional Bluetooth.
HD Graphical User Interface 
The 1280 x 720 HD touchscreen offers an enhanced user interface for safety and ease of use. It features a high-contrast "Mobile ES" color scheme, as well as customizable wallpaper to suit your vehicle and style.