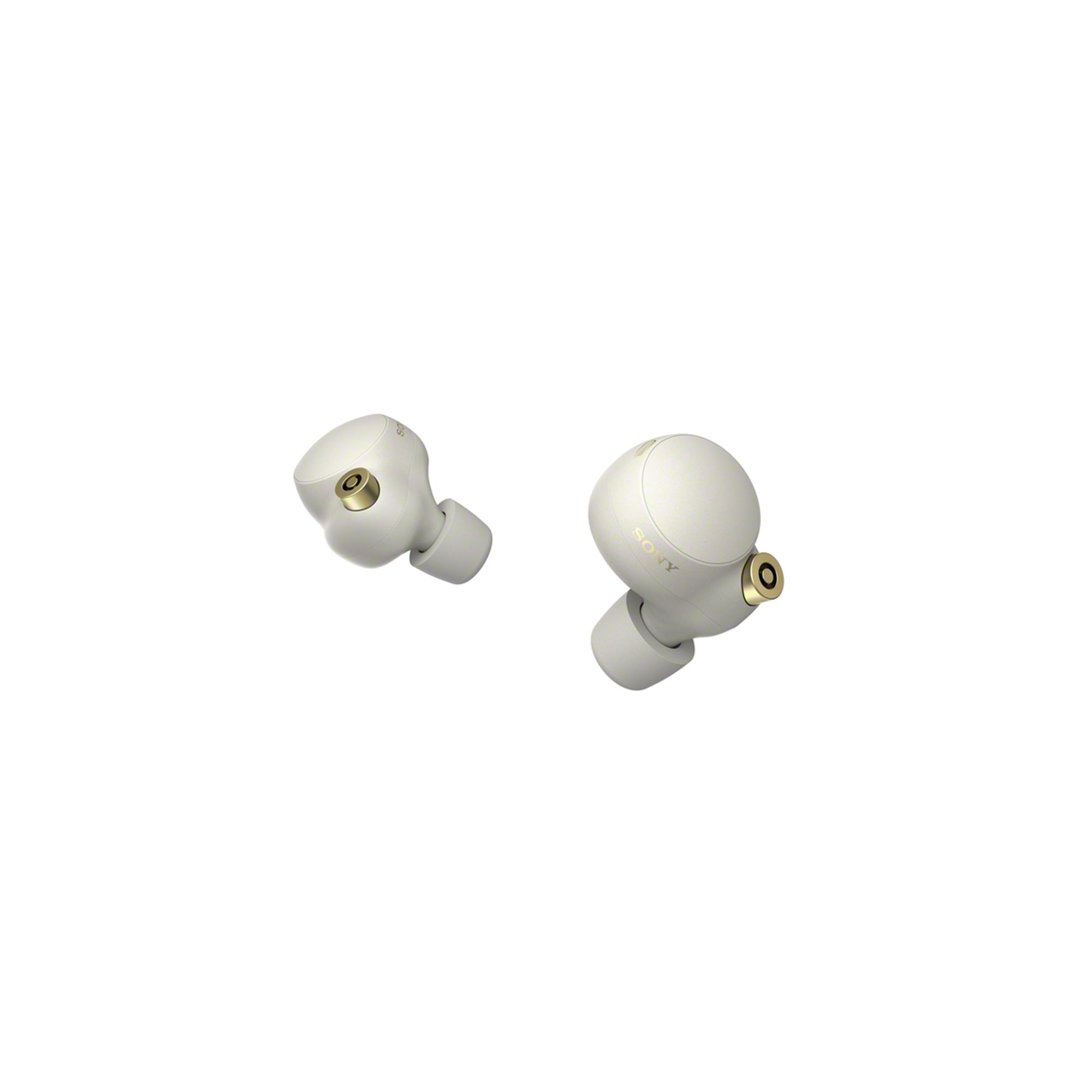 WF-1000XM4 Wireless Noise Cancelling Headphones
Industry-leading noise canceling with new Integrated Processor V1
Exceptional sound quality with new Integrated Processor V1 and supporting LDAC codec.
Crystal-clear call quality, beamforming microphone and a bone-conduction sensor provide clear voice detection even in noisy environments
Speak-to-chat technology automatically reduces volume during conversations
8 hours long battery with Noise Canceling
IPX4 Water resistance
Easy wireless charging with Qi technology
"Sony | Headphones Connect" App for Android /iOS
Ergonomic surface design for a better fit
Stable Bluetooth connection
Industry-leading Digital Noise Cancellation
Everything in the WF-1000XM4 headphones has been redesigned from the ground up. Like our new Integrated Processor V1, specially developed by Sony, that cancels more noise than ever, a new driver with more performance, newly designed noise sensing microphones, and innovative Noise Isolation Earbud Tips with a more stable fit.
Integrated Processor V1
Specially developed by Sony, our new Integrated Processor V1 takes the noise canceling performance of our acclaimed QN1e chip and goes even further. Improved noise canceling performance and Bluetooth 'System on Chip' technology delivers the industry's highest level of noise canceling yet uses less power.
High-performance dual-noise-sensor microphones
Two noise sensing microphones per earbuds – one forward-facing and one backward-facing – catch more ambient sound around you. This means more stable noise canceling and less distortion at any volume.
New 6 mm driver unit
A newly designed 6 mm driver unit, featuring a 20% increase in magnet volume, gives you improved performance in low frequencies. It also enhances noise canceling by generating a high-precision cancellation signal to the low frequency range.
Noise Isolation Earbud Tips
Newly developed Noise Isolation Earbud Tips feature a unique polyurethane foam material. Soft and elastic, it maximizes the surface contact area between the earbud tip and the ear canal, eliminating gaps to insulate sound and reduce noise. It also improves adhesion to the ear canal for a more stable fit, making the WF-1000XM4 headphones easy to wear.
Minimizing wind noise
Even on windy days, you'll stay totally immersed. Automatic Wind Noise Reduction mode detects when it's windy and automatically suppresses wind noise for more effective noise canceling.
Exceptional sound quality
The WF-1000XM4 support High-Resolution Audio Wireless. Thanks to specially designed 6mm drivers, they reproduce a dynamic sound despite their small size, and the high compliance diaphragm reproduces a rich bass range. The Integrated Processor V1 also enhances sound quality and reduces distortion and enables LDAC codec processing and DSEE Extreme.
Enjoy High-Resolution Audio without wires
The WF-1000XM4 support High-Resolution Audio Wireless, thanks to LDAC, our industry-adopted audio coding technology. LDAC transmits approximately three times more data (at the maximum transfer rate of 990 kbps) than conventional Bluetooth® audio, allowing you to enjoy High-Resolution Audio content in exceptional quality, as close as possible to that of a dedicated wired connection. 
Real-time restoration of all your compressed files
Using Edge-AI (Artificial Intelligence), DSEE Extreme™ (Digital Sound Enhancement Engine) upscales compressed digital music files in real time. Dynamically recognizing instrumentation, musical genres, and individual elements of each song, such as vocals or interludes, it restores the high-range sound lost in compression for a richer, more complete listening experience.
Beamforming microphones pick up every word
Beamforming microphones are calibrated to only pick up sounds from your mouth. With an improved signal-to-noise ratio they'll catch every word, even when there's a lot of noise around you.
Detects speech vibrations to enhance clarity
A bone-conduction sensor picks up vibrations from your voice without registering ambient sound, enabling even clearer speech when making calls.